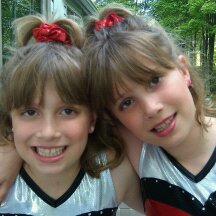 "I am going to cook this." My four year old daughter held the egg between two fingers about two inches from my husband's now awake face as she announced her master plan. For we knew, this was no threat, she meant what she said.
The trouble with twins was that what one didn't think of the other did. No one told us this when we boggled in surprise at the two heads visible in the five month sonogram. Instead most responded with, "what a blessing, they will always have a friend." Although a few of our friends bursting into laughter should have given us some warning.
What we discovered was that over the first five years, that so-called friend was not that recognizable to the other, more of a teething object, adversary or punching bag that stood in the way of the attention that should rightly be theirs. Once they started daycare I lived in fear that child care services would show up to measure the size of my jaw and as to whether it matched the teething marks on one or the other. I can recall a Christmas card having one of the girls sporting a lovely bite mark on her cheek.
Two strong-minded fiercely independent gals forced my husband and I to develop the ability to carry on the charade as if living normal days with only a few hours of sleep while living in a home that was stripped of all objects that could be broken, eaten or utilized as a weapon for the first three years of their lives as we refused to admit defeat even though outnumbered by the munchkins. With the ability to climb like a monkey onto countertops and to the top of any medicine cabinet, no fear held them back with their personal, miniature matching cheerleader encouraging them on to find what must be a treasure if we have attempted to keep them from it.
Our babies will be ten years old this weekend. "Double digits" for double-trouble, each birthday a quiet, personal celebration that we have survived another year as parents to the mystery that is twins. They have become more friend than foe now and many things are quite endearing to see as I look on as their mother, but still an outsider to the mysteries of twin-dom.
We remain one step behind them as their melded minds play us to their will. But we will never reveal this to them…never letting them see us sweat. For though there is double trouble with twins, there is also double to love.