The knock echoed through the bedroom door.  I opened it and came face to face with Laken. Well, not quite face to face since she was only nine and not yet five feet tall.
I looked down at what she clutched in her hands.  A container of raspberries. Then up to meet her gaze.
She was giving me…the look. 
You know the one.

 
It creeps through your eyes into your very soul, finding that secret spot where guilt resides.  The look is generally honed after years of enduring it from one's mother until you've had your own children and were able to replicate it.  The number of children and years of marriage often enhancing the strength and abilities of one's look. It's power enabling one to often achieve goals effortlessly.
Generally unheard of at such a young age, but perhaps through the process of evolution, or since with a twin they could practice on from birth expedited its perfection…but somehow, someway, my girls were able to throw out their own version of the look, which was often surprisingly effective.
"Oh, you found the raspberries."
I averted my eyes. Almost more embarrassed that my 'secret stash' wasn't chocolate or liquor but coveted fruit. "I was going to share them."
Laken didn't look convinced.

  
"It was just for a few days."

 

A wash of guilt came over me for hiding them, but somehow raspberries made an ordinary snack more decadent.

 

The girls had inherited this love as well.

 

While I was able to extend the enjoyment, savoring a few berries at a time, my girls, knowing nothing about delaying gratification, would consume the entire tray in one sitting.
 

It wasn't like I was really hiding them, so I told myself.

 

They were in plain sight in the extra refrigerator…if they choose to look there.
"Could you save me some for my cereal tomorrow?"
Her eyes continued to bore into me. Conveying that she knew… that I knew… that she knew- the rest she left for the guilt to work it's magic.

 

Eroding away at my insides.

  
As silently as she arrived, she turned and walked away.

 

Leaving me to wallow in my discomfort.

 
"They left you something."

 
Jamie informed me when I arrived downstairs.
 "Really?"  Even with the best intentions, the girls had difficulty in leaving an adequate serving, most likely inheriting this trait from their uncle who had similar tendencies.  Even going so far as leaving the empty box in its designated space, as if not actually disposing of the evidence meant they hadn't really finished it.  So I was pleasantly surprised that they'd honored my request
 I pulled out the container where it was stored back in my not-so-secret hiding place.   One lone raspberry stood in the middle of the container.  The red stained lining depicted the remnants of its gobbled comrades.
A heart-shaped sticky note was placed on the outside of the container. It stated, "Enjoy your cereal."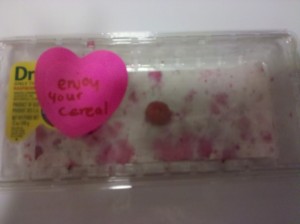 Apparently 'some' required a better definition.
Welcome to Tuesday Twin Talk. The names haven't been changed because unbeknownst to my twins, we have a deal. I raise them with love and they give me fodder for stories that may make up for blank pages in their baby books. And really how important is the first step when I can't remember which one it was and by the time they care, walking won't be all that eventful anymore anyway?
"There are many wonderful things that will never be done if you do not do them."