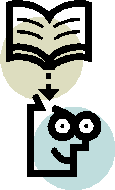 "What are you doing with that?" I watched the twins totter by dragging their little plastic table.
"To the driveway." Yasmine responded as if this explained it all, although it did somewhat. Lacking the sales-gene myself, I'd never been able to understand the girls' constant need to be selling something and that table was their go-to essential for retailing of all kinds.
"For what?"
"To sell our books." Not satisfied with the basic lemonade stand, not these girls with their endless array of products.
Their favorite being the 'book sale'.
The books the girls labored over were made of paper and stapled or taped together. Authored by their club they'd dubbed, 'The Spy Hunters' compete with a theme song they'd created—which consisted of only a few verses. It was kind of catchy, or perhaps because they enjoyed singing it…repeatedly. It would pop into my head at the most inopportune time and refuse to be dismissed.
The Spy Hunters name itself was a mystery for as far as I could tell there was no spying or hunting of spies occurring with the trio of sales-munchkins.
"Why are you selling your books? Don't you want to keep them?" What I really meant was that although very cute, it was something a family member would love, but even then would be hard-pressed to pay money for it.
At best the books had a cute story and illustrations, but when production ran high, I'd discovered some only had a front and back cover and were filled with blank pages in the middle. Others had scribbled lines that were to resemble words as if we were starring in a cartoon, most likely Family Circus.
Family and close friends responded with enthusiasm over their creativity and stories, hence creating this grandiose delusion. Therefore the girls would look at me with disdain with my apparent inability to have an instant best-selling novel lining the bookstores—since it was so easy a first-grader, could do it.
Their passion was contagious and additional children gathered in the driveway, surrounding the table while 'The Spy Hunters' frantically worked at creating more books to sell, enticing other children to assist.
Even coercing neighbors to contribute food and drinks to sell until our driveway began to look like a festival. Tossing aside all discussions about strangers and safety while chasing down neighbors on foot or in their vehicles as they attempted, unsuccessfully, to pass our house without making a purchase.

"We're saving up for a laptop so we can have our own webpage."
"A what?" I hadn't really thought they'd understood what that was, let alone have the desire to have one of their own.
"You know, like I-Carly." Naming one of the plethora of teeny-bopper shows on television that I lumped together, as all were mega stars of something or in their own rock band (instead of the reality that most were only a star in their own mind and only a rock star in front of the wii). Such it was an impossible task to balance the you-can-do-anything encouragement with a dose of reality that the likelihood of instant stardom was little to none without sounding like a terrible mother.
"It will be spyhunters dot com, like our song."
Of course. The ditty immediately began playing through the recesses of my mind. Over and over again…like the theme song…of a circus.