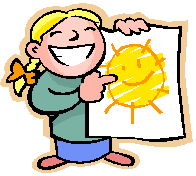 The screams echoed throughout the house.
I barreled down the stairs, almost tripping over my own feet in my haste to determine what emergency had befallen my four year old twins to cause such screams of agony.
Bursting into the garage, I scanned the area but couldn't determine the source of the distress.
I crouched in front of the wailing girls.
"YOU THREW AWAY OUR ART!!!"
"No I didn't." I instinctively denied before I saw the opened trash bag where I'd buried some of their scraps of paper—err, art.
Since the twins had started daycare two years ago, the majority of the tuition we paid seemed to be for supplying the place with paper.
Apparently they believed in encouraging the creative nature of children with no limits on the amount of paper utilized.
We'd arrive each day to pick them up and the girls and the ginormous stack of 'art' they'd created that day.
We quickly had enough 'pictures' to line the floors, walls and probably the entire outside of the house.
Therefore I'd been forced to create my own system of determining which papers were saved and which ones eventually made their way to the trash to prevent us from all drowning in paper with three scribbles on them identified as 'art'.
(Although they resembled the efforts of someone trying to get the ink to flow from a pen.
Though cute, once you have about ten or more of those, they lose some of their luster.)
Hence once the twins were traumatized by this incident as such an early age, over the years they developed a method to attempt to outwit my efforts at clutter control.
Yasmine started claiming 'collections' since she was about five years old.
The scenario went something like this: I'd protest about the increasing growth of items in her room and demand it be cleaned.
Yasmine insisted that although mountains of stuff was piled along the walls in her room—if there was a pathway through the room, then it was clean.
Then she'd quickly indicate many of these were new acquisitions for her 'collections.'
Although there was another word for it…hoarding.
Anything she'd acquired more than one of became a 'collection.'
Believing it to be revered and free from risk of becoming a casualty of the trash once an item acquired this title.
If she only had one item that looked as if it may be in danger of being discarded, then it was identified as 'a memory'.
Initially I'd found her sentimental nature endearing, until I discovered that
memory hoarding
often extended to items such as restaurant placemats or napkins displaying
a half-hearted doodle on it— as well as ketchup and spilled root beer.
New collectable items would crop up each day.
Yasmine's future as an elderly woman with shelves lined with treasured, dusty knick knacks remained secure.
"I collect these now."
Yasmine protested at my initial denial at purchasing the small pack of gum.
"No, small things."
I raised an eyebrow.
Well, mentally I did.
In reality I was yet unable to master this task—or apparently clutter control.