Trick or Treat, smell my feet, give me something good to eat…. Oops, I didn't see you come in, anyway…
PRIZES….now that I've got your attention…. Welcome to my stop of the  Snarkology Halloween Blog Hop! Enter the Rafflecopter for a BIG prize and visit the blogs to win more prizes!
PRIZES….60 Blogs= tons of prizes!!!
And wait, there's more...(prizes)
If you sign up for my newsletter (prizes)—tell me in the comments that you did—you'll be entered in my drawing of a $5.00 amazon gift card or Post a pic of you in a Halloween costume  (prizes)  for an entry in my drawing…or Better Yet— Do both for 2 chances to win!
I will announce winner here and on my Facebook page on November 1st (you got time, get in your costume, take that pic and get it on here)
First…my version of 'zombie'. There's no flesh eating. I'm more of the candy-eating kind of zombie. I don't follow the shows or movies about them, so I certainly don't know the proper zombie etiquette for a costume or behaviors…so I make up my own.
I've been many things for Halloween…a cat, a belly-dancer, batgirl, a devil…but almost all the costumes available in the stores-—oh no, shut-it now cause I'm so not sewing—seemed to have the same theme.
Ho-bag-skin-tight-freeze-your-can-off-minimal clothing with no room to expand for candy.
 While if you're a zombie…
It's the only time a bad hair day is a good thing cause it's the look you're going for
If your clothes rip or buttons pop from your candy over indulgence- it just looks like part of the costume
Forgo the napkin or bib during your candy gorging- zombies are messy
Less trick or treaters to eat your candy—you know you bought what you like, It's okay to admit it here, you're among friends— some kids are afraid of the zombie handing it out                            (even when I told them we were nice zombies…still tears and terror…)
An excuse to glare at everyone you don't like or threaten to kill them…just playing the part
The ability to draw all over your face with lipstick and eyeliner and people won't think you slept with it on
Introverts rejoice!!! A valid reason not to talk to anyone (insert glare here)… grunt or growl if you must to discourage further attempts at conversation
No need for stilettos and/or fishnet, heck you could go barefoot with sweatpants if you want—Oh, you had me at sweatpants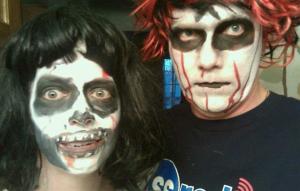 What was your favorite Halloween costume or what do you plan to be this year? Not dressing up? Come on! If you read paranormal, you know this is the best time of the year!
Pick up my paranormal novella, That Magic Moment, to help you get into the spirit- sorry no zombies, just witches.
 P.S. you can use the gift card to buy your own candy if you want…cause I'm not sharing my stuff…just sayin'
Wait! Don't go yet…I did tell you about the prizes, didn't I?
Enter To Win:
href="http://www.rafflecopter.com/rafl/display/6832075a2/"
rel="nofollow">a Rafflecopter giveaway
Follow the Blog Hop: