"This is to inform you of your worldwide release date. On this date, 2014-12-22, your book (Destiny Calling) will be available through The Wild Rose Press, Inc. store and all external distributors worldwide."
This prompted much yelling, running in circles and fist pumping in celebration (internally, of course, I was in a public place and am more introverted by nature) because I've been impatiently waiting for 'the date' for a little bit now. This waiting for the date is common in the publishing industry.
Kind of like childbirth, except the book doesn't have a mind of it's own and decide to come early or late, or give you a two-for-one deal— it's arriving on that date.
So maybe more like waiting for that prom date, when you're sitting by the phone (or email/text in this day and age) waiting for it to ring to confirm that it's on like donkey kong!. (okay, I'm dating myself now)
Then as the date sunk in and the sappy smile came slightly unglued from face I began to realize that something else happens right around that time (maybe 3 days later…) that I'm generally slightly overwhelmed and not quite prepared for as if it's come as a surprise and not the same time every year.
Therefore, it seems I'm going to have to kick my christmas prep into overdrive…or else everyone knows what they will be getting for Christmas…
If you're naughty…a lump of coal
If you're nice….you know it! Okay, here's a hint…it's square, in paperback or digital and 310 pages…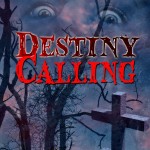 Well…even if you're naughty you might get it…if it's your destiny.
Psst!! You'll know about stuff coming up that I forget who I did or didn't tell, or that Facebook decides not to tell you, if you sign up for my upcoming newsletter! (sign up is at the bottom of this page and on all my other pages)