I don't feature many authors, but when I do, I only feature ones with stuff I love!
Happy Book Birthday today to Sophia's Kimble's release
One thing I liked immediately (and I think you'll like too) about Protect Her was this…the cover! Feast your eyes upon this beauty! The details, the sense of story all came across to me immediately, it is absolutely breathtaking.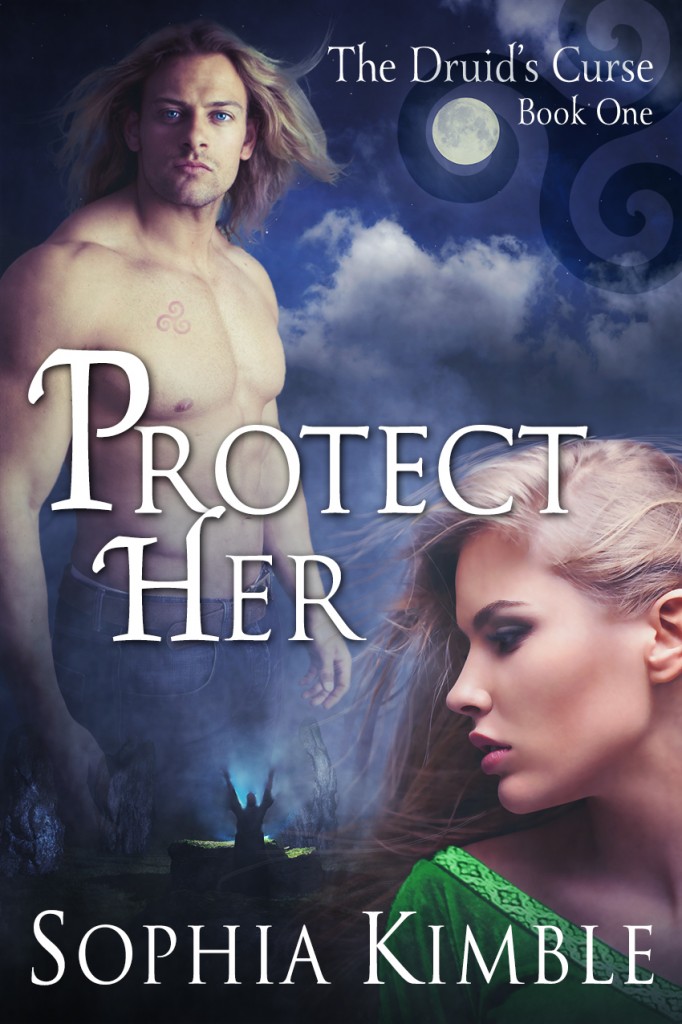 Another thing I love about Protect Her is the story. Check out this blurb:
Golden Alexander flees her hallucination of a demon, and runs heart first into the brooding alpha male she's been dreaming about for years.

Kris Pietka is done with women…he's broken. But when he meets Golden, an overwhelming need to protect her tests everything he knew about himself.

A centuries old Druid's curse prophesying their demise thrusts them together and they race across the country trying to break the ancient bond.

But something evil watches—it covets.
Yet Another thing
…I'm trying to limit it, but there's just so much I love about Sophia Kimble's writing (and you will too)…
I love to hear from authors is how the story started, where it all began. Here's a peek into an interview Sophia did with her main character, Golden Alexander. From Golden's lips to Sophia's ear:
"Do you ever wonder if you're going crazy, or are already there?"
I assured her I had and she closed her eyes. "Heavenly blue morning glories."
"Pardon?" I had no idea what she was talking about.
"It's my favorite flower. It also happens to be the color of the man's eyes I've been seeing in my dreams since I first saw the demon seven years ago. I know his eyes almost better than I know my own. Almond shaped with scattered flecks of violet, long lashes surrounding the piercing blue color, light-brown eyebrows, and sandy-brown hair hanging to his shoulders. He comforts me."
I kept quiet, waiting for her to continue.
"God, I wish he was real. Dr. Rosenthal said I invented him to help with the traumatic loss in my life, and I guess he's right about that, even though he's full of crap about the other diagnoses."
"What other diagnoses?"
Her lids popped open, deep green eyes boring into mine.
"The demon, Sophia . . . it's real."
Okay…One more thing..
I promise, then I'll stop so you can buy Protect Her right now, don't wait, do it now! (I love being bossy about other people's stuff)

A cool fact about Protect Her is that Sophia's great, great aunt was Golden Alexander and there were two other Golden's in her family tree. Sophia's genealogy research on her own family helped mold much of the story for Protect Her. Resulting in a story with details so vivid and rich that Sophia made me a potential lover of historicals!

I spy with my little eye:

Take a look at Sophia's beautiful picture below and compare it to the cover of Protect Her, then tell me in the comments below if you notice any similarities.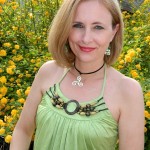 Sophia Kimble has always wanted to be an author, but for years, life got in the way. She wouldn't change a thing about how her life turned out, though. Her family keeps her laughing and loving. Her wonderful husband and two extraordinary children stand beside her every step of the way and make this journey called life worth living.
Sophia has worked as a nurse for twenty years, but has put that career path aside to devote her time and imagination to writing down the stories that keep her up nights.
She takes her love of the paranormal, history, and genealogy, and weaves them into tales of family, fated love, and supernatural occurrences.
Connect with Sophia at the following sites:
Website:
Facebook:
Twitter