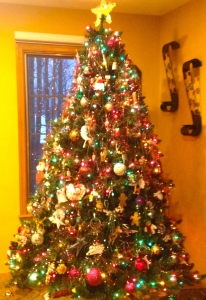 Our christmas tree is a rotating memory. It's a good thing, because I have trouble remembering anything! Each year, I buy my girls (and usually my guy) a christmas ornament and I make an effort to try to find one that represents something that happened that year. For example, last year we got a puppy (Scruff- aka: my writing assistant). I had an ornament made for each of them with his picture on it and a figurine one for the hubs.
Our tree is on a rotating base, so I can sit and look at all the ornaments and watch the years come and go. Admiring the ornaments from when the girls were babies up until their current teen years as well as over the years with the hubs.
I know some people are all about having their tree be color coordinated or a certain theme, our only theme is family. It's a big hodge-podge of colors and ornaments of all shapes and sizes. The girls usually put the decorations on however they like them. (If you want to get an idea of just how much the girls made the tree their own, (and you don't scare easily) take a look at this old post of when the girls were smaller and decorated the tree!)
No worries about scary toys decorating the tree this year. It's just filled with the multi-colored twinkling lights (No white lights for me!), glittery ornaments and baubles making me feel like a princess.
Speaking of princesses! My guest today is Jennifer Faye, featuring her novel, A Princess by Christmas. I can't think of a nicer stocking stuffer to get you into the holiday spirit!
A Princess by Christmas by Jennifer Faye
A royal kiss under the mistletoe…
Prince Alexandro Castanovo arrives in snowy New York intent on protecting his royal family from scandal. And when Reese Harding—down-to-earth and heart-stoppingly beautiful—finds room for him at her inn, it seems like the perfect twist of fate.
Not long ago Reese's world came crumbling down, shaking her foundations. But this enigmatic stranger intrigues her! She's learned to be wary of secrets…but when she discovers Alex's true identity, might there be enough magic in the air to make this regular American girl a princess by Christmas…?
Buy Links: Amazon | B&N | iTunes | Kobo

As part of The 12 Days of Christmas celebration, Jennifer donated a $10 Amazon card, paired with a package of author swag from Darcy Flynn to the prize list. Click HERE for this and many more random drawings. To follow the celebration, find a new recipe, pick up a holiday decorating or shopping tip, click HERE.
About the Author
I currently reside in Pennsylvania with my very patient husband, one amazing daughter (the other remarkable daughter has flown the coop to chase her own dreams) and two spoiled rotten cats. When I'm not glued to my laptop (which isn't often) or enjoying some family time, I like reading, cross-stitch, embroidery, quilting, knitting, hockey (go Pittsburgh Penguins!), and gardening.
Connect: Website | Facebook | Twitter | Goodreads | Google+
a Rafflecopter giveaway