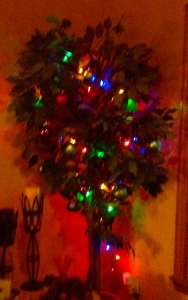 Do you know what I know?
Most likely you're going to have some company over the holiday season and everyone wants to have thier house decorated from top to bottom for the holidays, looking as if it's straight out of a Norman Rockwell photograph.
Unfortunately, most everyone doesn't have time to do that and maintain thier sanity during the holiday season. You don't have to do it all, but you can still look like you do.
Do you see what I see? 
This is not my Christmas Tree. (Psst…the dim lighting was intentional! Keep reading to find out why) Fooled ya, huh? We have another Christmas Tree that I'll show you on another day, this just happens to be a artifical decorative tree that's up in our house all year long. Throw on some extra bulbs and a string of lights and we've can sprinkle a bit of Christmas in this corner. You can do the same for a plain wreath with a string of lights. I put extra bulbs around the house where the Christmas spirit is lacking.
No one will notice the dust bunnies hiding in the corners, or that you really wanted to mop the floor again if you dim the lights. Let your colorful bulbs do their magic by enhancing the holiday spirit. Light some candles, put on the fireplace if you have one. Put a stack of books on your coffee table to draw your guest's gaze to, and it's a nice convesation starter. You can start with my guest's book Rogue's Son. (Then maybe add Destiny Calling to that pile.)
Do you hear what I hear?
Play holiday music to get your guests into the holiday mood. Say tuned to the holiday blog hop on the 21st and you might get some ideas of songs to choose to play.
Do you smell what I smell? 
Your home is only as clean as it smells…so….scented pinecones! You get a two-for-one deal by getting a nice decoration for the season and a wonderful scent to fill your home. There are a ton of aromatic air fresheners you can choose from, or fragrant candles. It's the first thing people notice when they walk into your home.
After you read a bit about my wonderful guest author Darcy Flynn and her book, Rogue's Son, feel free to share some decorating tips of your own.
Rogue's Son by Darcy Flynn
Tough, driven Kit Kendall has replaced her frills and dresses with no nonsense haircuts and wranglers, years ago. As owner of Sage Brush, the once thriving west Texas bed and breakfast ranch, she now struggles daily to keep her business afloat. Since McCabe Resort Lodge reopened next door as a multi-million dollar hotel, her financial difficulties compound, as she suffers one cancellation after another.
Just when she thought things couldn't get any worse, Kit's childhood sweetheart turned nemesis returns as the new owner of the resort that's now putting her out of business, resurrecting memories she thought she'd buried long ago.
Cowboy, entrepreneur Sam Dawson has returned to Sugar Creek, Texas after six years of exile with a secret that could destroy Kit's happiness. He left town because of it and for the past two years has secretly tried to make it right. Having failed, he now returns to make one last attempt to undo the tangled web created by his father.
Set in motion by his father's Last Will and Testament and with the clock ticking, Sam has only weeks to convince Kit to sell him her ranch or reveal the truth that will break her heart.
Pick up a copy today at Amazon.

As part of The 12 Days of Christmas celebration, Darcy donated a package full of author swag, paired with a $10 Amazon card from Jennifer Faye to the prize list. Click HERE for this and many more random drawings. To follow the celebration, find a new recipe, pick up a holiday decorating or shopping tip, click HERE.
About the Author
Joy Dent writes sweet contemporary romances as Darcy Flynn. Her life is a gumbo world. Take a little New Orleans heritage, some art, music, dance and add a lot of love and time to simmer and all you have is spice, flavor, and a memory of something so fine you can't wait for another helping. Her fiction is a few B&Bs, a bit of moon magic and a lot of problems mixed with a healthy portion of sweet romance. Add a dash of sizzle and a lot of sass and all that's left is magic.
A native of New Orleans, Darcy swapped her city roots for garden boots when she and her husband moved to their farm in Franklin, Tennessee, where Darcy is surrounded by her beautiful gardens and a menagerie of living creatures–English setters and Millie Fleur chickens, being her favorite.
Although, published in the Christian non-fiction market under her real name, Joy Dent, it was the empty nest that turned her to writing romantic fiction. A lover of lighthouses, Darcy's first novel, Keeper Of My Heart, is set in a small Maryland fishing village on the Chesapeake Bay. Her short story, Sealed With a Kiss: Prequel to Keeper of My Heart is available on Amazon and Smashwords.
Connect: Website | Facebook | Twitter | Goodreads | Pinterest | Google+