You had me at a group of friends, martinis and the roaring 20's. Although how these stories came about is a wonderful, fascinating story in itself…then I got a look at the gorgeous covers of the books in these series and wow! But wait! That's not all! Even though the books will be at the low cost of $2.99, you have until the release date (February 26th) to get these books at an unbelievable cost of .99 cents! 
I'd like to present Alicia Dean and friends, sharing a new series:
Before we dive into their stories, the four ladies have a question for readers. I've answered below each of their questions and I'd love for you to answer in the comments at the end: 
Amanda McCabe: What TV show are you addicted to?  (I never miss Downton Abbey or Sleepy Hollow, even though both have been letting em down lately.  Death to Katrina, please!)
Maureen: I don't have any current TV addictions, since I rarely sit and watch TV without my computer. I actually avoid some of the shows people rave about for fear of getting sucked into them. (Give us your answer below in the comments!)
Alicia Dean: I know it's almost impossible to name my favorite book, but I have a few that stand out in my mind, some that I've read over and over, Gone with the Wind being one. (I read Sweet Savage Love by Rosemary Rogers EIGHT times…but that was more than thirty-five years ago)  What about you? Can you name your favorite, or some that really stayed with you?
Maureen: I agree, a favorite book is impossible to name, but The Stand, by Stephen King made a lasting impression on me as did The Lord of the Rings series. (Give us your answer in the comments, please.)
Kathy L Wheeler: Do you have the desire to write a book?
Maureen: As a writer, I don't think I need to answer this one– but I'd love to hear from my readers in the comments. 
Krysta Scott: Does a bad ending kill your interest in reading another book by the author or are you willing to give them another chance? What do you consider a 'bad' ending? One where things don't work out like you hoped, or where the ending is unrealistic or a 'cheat', or one that ends too abruptly, or…?
Maureen: I admit I get annoyed by a bad ending, but it doesn't stop me from reading if I like the author. When I've read Stephen King, I kind of expect a bad ending half the time, but I still read his books. (Readers? You know the drill…)
Martini Club 4 – The 1920s
A few years ago, myself and three of my writer friends—Amanda McCabe, Kathy L Wheeler, and Krysta Scott—began meeting each Friday evening (unless something extremely important kept one of us away, and trust me, it had to be IMPORTANT) for Martinis and various other libations, at the Martini Lounge in Edmond, Oklahoma. In time, we came to dub our gathering the 'Martini Club.' We unwind, vent, chat about writing, laugh, and strengthen an already strong bond of friendship. It's not only fun, it's beneficial. As all writers know, no other friend besides a writer friend truly understands us. (We also have an honorary MC member, Cindy Sorenson. Although she is a writer, she declined to write one of the stories, but she has been invaluable as far as brainstorming and beta reading. So, what else could we do…we named a character after her in the series!)
During one of these gatherings, one of us, and I can't remember who, made an offhand remark about writing stories centered around the Martini Club. The idea blossomed from there, and the 'Martini Club 4' series was born. We thought it would be fun to set our first MC4 stories in the 1920's, but we intend to write more in other decades in the future. During the planning, plotting, and writing, we have had a few weekend retreats that were loads of fun, and some were even productive. J What a joy to do something that I love so much—writing—with a group of ladies that I love so much!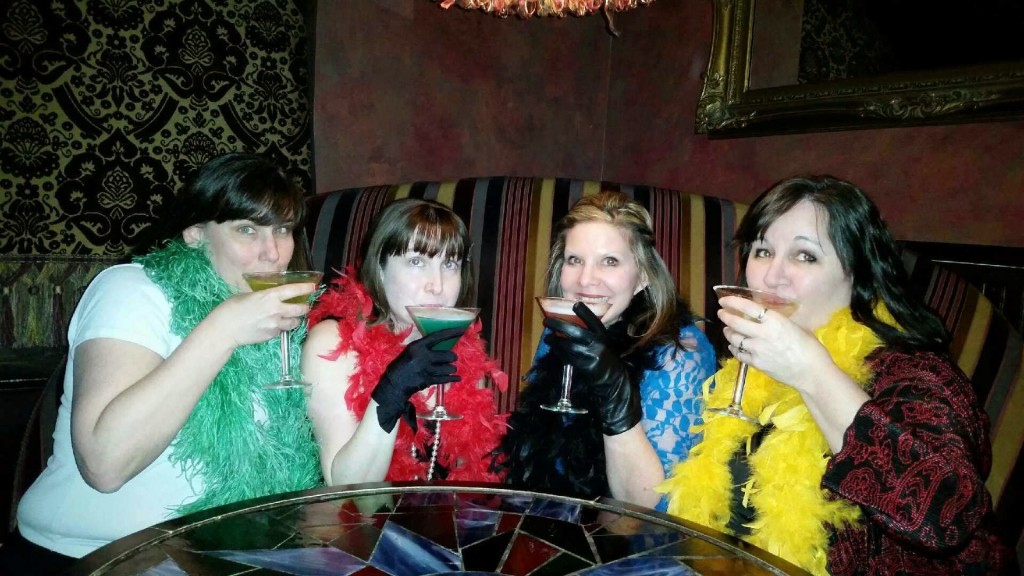 Left to Right: Krysta Scott, Amanda McCabe, Kathy L Wheeler, Alicia Dean
 Without further ado, I'd like to present the four novellas in our Martini Club – The 1920's series.
*** Release date is February 26, 2015 and the price at that time will be $2.99 each. If you pre-order, they are only 99 cents each! ***
Please check out and 'like' our Facebook page:
http://facebook.com/martiniclub4
The entire series can be found at this link on Amazon: 
Rebellious: Martini Club 4 Series – The 1920s
Amanda McCabe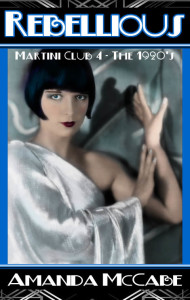 Blurb: Can an aristocratic lady melt the cold heart of a Russian gangster?
Lady Jessica Hatton fled her high-society London debutante life for one of investigative journalism in New York—only to be relegated to the fashion pages. Searching for a juicy story leads her to Club 501, the city's most glamorous speakeasy—and its handsome, mysterious owner, Frank Markov. But his past of war and revolution puts their hearts—and their lives—in danger…
Excerpt: Back again, are you, miss?" the tall bartender said with a grin as Jessica pushed her way between the massed crowds at the bar. Club 501 had obviously lost none of its popularity in the two nights since she had been there. "We must be doing something right."
Jessica laughed and gestured to the room around her, the scads of glittering dancers, the jostling packs clamoring for a drink. "I'd say you are. Surely no place in the city could be more popular."
"That's because of all the pretty girls that come here."
"I know! You have two of my friends working here now." She nodded toward Meggie, singing in the spotlight in a purple beaded gown, and Charlotte making her way between the tables in a smart new black silk dress, a tray of drinks balancing in her hands.
"We'll have you working here next. I need an apprentice bartender," he teased.
Jessica laughed. "Tempting, but I'm afraid I already have a job." If you could call it that, with all those endless descriptions of flower arrangements and lace trim on gowns, and Mrs. Mortimer chasing her out of the archives. "So, what's your name, bartender?"
"Ira," he answered. "Pleased to meet you, miss."
"Pleased to meet you." She glanced at the hidden door behind the bar, barely visible now in the dark paneling and the faint lighting. Maybe her garden party days would be behind her soon.
Contact info: http://ammandamccabe.com
Ruined: Martini Club 4 Series – The 1920s
Alicia Dean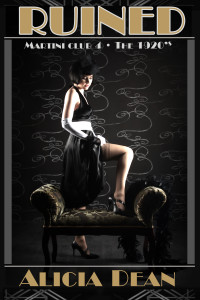 Blurb: She vowed she'd be no man's doxy, but fate had other plans…
After the Earl of Goodwin attempts to force himself on her, housemaid Eliza Gilbert flees England for New York, hoping to build a better life. But the land of opportunity proves as harsh as the London docks, and she finds herself in a situation more dreadful than the one she escaped.
When Vince Taggart's childhood friend disappears, he heads to New York in search of her and meets Eliza, a woman with a less than honorable reputation. Inexplicably captivated, Vince can't force himself to stay away, especially when he learns Eliza may be the key to finding his missing friend.
Excerpt:
The ballroom was magnificent. Sparkling chandeliers hung from the ceiling like diamonds dripping from the sky. Grecian columns with golden draperies strung between them bordered the entire room. Paul Whiteman's orchestra was performing on a platform stage set within a rectangular alcove at the western end of the room. Meggie would be joining them soon. What a fabulous opportunity for her. All her dreams were coming true.
Why her, and not me? Why can't my dreams come true?
She nearly gasped in horror at the unbidden thought. Her cheeks warmed with shame. How could she be envious of Meggie? She deserved every happiness in the world. Just because Eliza had made poor decisions and ruined her life, it didn't mean she couldn't be happy for her friends. She blinked back tears. She was happy for her friends. Really, she was.
She clutched a champagne flute in her damp palms, praying she could get through the evening without being forced on a 'date.' Across the enormous dance floor, Oscar stood conversing with two men. Please don't let either of them choose me…
http://aliciadean.com/alicias-blog/
https://www.facebook.com/profile.php?id=100008364070487
https://twitter.com/Alicia_Dean_
http://www.pinterest.com/aliciamdean/
Reckless: Martini Club 4 Series – The 1920s
Kathy L Wheeler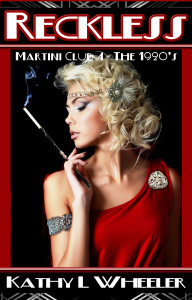 Blurb: Lady Margaret turned Lady Bootlegger…
Singer Margaret (Meggie) Montley needs money…fast. Her friend is in a dire situation with nowhere to turn. While Meggie is on the brink of stardom, it's not soon enough to save her friend.
Harry Dempsey is out to avenge the deaths of his father and brother at the hands of a ruthless gangster. But trouble spirals out of control when Meggie Montley shows up the night he meets his nemesis to settle the score. Saving the impetuous woman from a crime lord might be easier than saving her from her own reckless behavior.
Excerpt: Fear stopped Meggie's heart, the breath caught in her throat. Why did she always have to open her mouth at the wrong time?
"Put the gun away, Marco. This here's Lady Margaret Montley."
Meggie lifted her chin. "I sing with the Bernie-Edison Orchestra."
Marco chuckled, the gun never wavering in his hand. "Who's ta stop me from killing you, cap'n, and makin' a bit of a profit off yer Lady Margaret Munt…Munt…whatever her name is? Why, I could sell her off and make double what I should'a took ta'night."
Terrified, Meggie slipped a trembling hand in the pocket of her jacket and wrapped her fingers around the gun Harry slipped to her earlier.
"No one, I venture to say, cap'n. Now, drop yer piece over the side. Real nice an' slow like." Harry hesitated and Marco raised the gun.
Fingers shaking uncontrollably, Meggie raised her gun in his direction. "No." Her voice cracked. She forced an impossible calm. "No," she said again.
"I said, drop it, cap'n."
"I'll shoot. I-I will." But she feared her trembling endangered Harry's life. The man whose head rested in her lap stirred. His hand slipped over hers. His finger pressed against hers and squeezed. The gun went off, jolting her whole arm, ringing her ears. She screamed dropping the hot metal and slumped back.
Contact info: kathy@klwheeler.com
http://kathylwheeler.blogspot.com
http://facebook.com/kathylwheeler
http://twitter.com/kathylwheeler
http://pinterest.com/kathylwheeler
Runaway: Martini Club 4 Series – The 1920s
Krysta Scott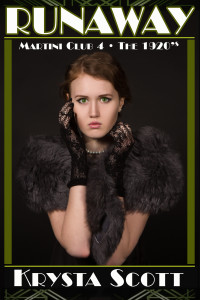 Blurb: Can she prove her innocence before more than her dreams are destroyed?
After escaping an arranged marriage, Lady Charlotte Leighton lands on a new shore, determined to realize her dream of opening her own bakery. But her plans are shattered when her former fiancé follows her to New York. Now, she finds herself in a fight for her freedom.
Haunted by a string of failures, Detective Felix Noble is determined to solve his latest case. But his efforts to find a murderer are jeopardized by a forbidden attraction to his number one suspect. While he's certain Charlotte Leighton is keeping secrets, instinct tells him she's not the murderess he first believed.
Excerpt: Charli fled, guilt chasing her all the way. But still, she ran from Geoffrey's mangled body. Two bodies in as many days. She'd never seen a dead person in her life, and now… She shuddered and swallowed back nausea.
Slipping between the shadows, she bunched her skirt between tight fists, doing her best to conceal the dark spots. If only she could rip off her clothes this instant. Scrape away the reminder of Geoffrey's unyielding body—her participation in his death. Make things different. Tears clouded her vision. She tripped over a crack, nearly colliding with a lamp post. Palm against it, she dragged in ragged breaths.
Dear God, she'd wanted a different future. But one of her own making and now she was suddenly a fugitive? Charli wrapped her arms around the steel post, pushed her cheek against the cold solid metal.
A giggle wafted from across the street, startling her. She glanced over quickly, expelling a relieved sigh. Only a couple, strolling hand in hand, gazing into one another's eyes. They didn't give a jot about a woman wearing a bloody dress. Home. She had to get home. Before they noticed her. Before anyone did.
Thank you so much for visiting today ladies! 
Don't forget to answer the questions our guest authors have posted above!