Welcome Guest Author Monique DeVere!
Let's check out her new release-a romantic comedy!
That gorgeous cover! Those hot pink, satin sheets!
Makes you want to pick up your copy today and have a…
Party for Two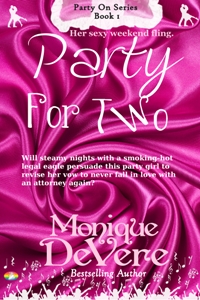 Her sexy weekend fling.
Ex-lawyer turned pregnancy model Danielle Hampton has one simple rule; never date an attorney, even if he's so deliciously hot she's nicknamed him His Hotness Esquire. When her father asks her to strap on her silicone bump and pretend to be Casey Lowe's pregnant fiancée in order to pull her family's law firm out of trouble, her first answer is a resounding no! But she owes Casey for wrecking his pool.
Civil Rights Attorney Casey Lowe lives by a code of practice: never date his boss's daughter, but he'll do just about anything to make partner at the top law firm—even if it means violating his personal code. He hasn't bargained on the fierce desire that burns hotter than the Mojave Desert and combusts every time he gets his boss's daughter alone. She may drive him to distraction and melt in his arms, but will this party girl hang around long enough for him to convince her that all the best parties… are for two?
Excerpt:
He snatched his phone from his pocket. "Get your people out of my pool and off my property." He spoke through gritted teeth. To think he had been about to give her a free pass tonight. "Before I call the cops and have all of you forcibly removed."
Dani sprang into action, hauled herself out of the pool in a smooth lithe move that arrested his attention. "No! Please don't do that, Casey."
Casey?
Since when had she decided to use his given name? She usually called him Lowe, and often with a touch of acerbic that left him in no doubt of what she thought of him. If she was hoping to throw him off guard with that soft husky plea to his name, she was wrong. Maybe he might've softened if they hadn't wrecked the place; expensive outdoor furniture that his interior designer had insisted he just "had to have" bobbed in the pool. But he hardly noticed. He barely noticed the people scampering away either.
What he did notice was Dani.
Dani dripping chlorine water in front of him. Her long golden-blonde hair, which usually fell in a sexy tousle around her shoulders, now plastered to her head and back. Water ran from her hair down her body to her bare, gold toe-ring adorned feet.
"Give me one reason why I shouldn't." Casey raised an eyebrow at her.
"I can't get arrested."
"Not a good enough reason."
Copyright © Monique DeVere 2015  Crystal Swan Publications  All Rights Reserved
Wow! This book sounds awesome! Thank you for visiting today Monique!
Author Bio

Monique DeVere is a full-time author of Sweet 'n' Spicy Romantic Comedy and Contemporary Romance. She also writes Christian Supernatural Suspense movie scripts. She was born on the beautiful island of Barbados, where she grew up on a large plantation with enough wide-open space to let the imagination run free. She moved to the UK as a teen and shortly after met and fell instantly, and irrevocably, in love with her very own strong-silent-type hero. When Monique isn't writing or spending quality time with her family, she likes to armchair travel to distant and exciting parts of the world and considers herself to have the best job on earth.
You can visit her at moniquedevere.com where she invites you to join her exclusive Sweet 'n' Spicy Readers Club packed full of goodies for her members. Monique loves to hear from her readers, do contact her at monique@moniquedevere.com.
Book Purchase Link: http://buff.ly/1OHUHRf
Where to Find Monique:
Website | Blog | Mailing List | Amazon Author Page | Twitter | Goodreads | Facebook Fanpage | LinkedIn | Wattpad | Pinterest |