So What Does a Girl Want for Valentine's Day?
For Valentine's Day Would you Prefer
Check out the Candy Hearts Romances Releasing this week and read on to enter to win!
What girl wouldn't want these sweet nothings whispered in their ear…
One Kiss~  Ever After~  Je T'aime~  Pick Me~  Text Me~  Surprise Me~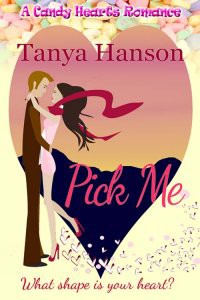 Volunteering at a horse rescue has helped heal schoolteacher Kelsey Hunter after her celebrity ex's betrayal. Life in the rural California community suits her better than the bling of Hollywood. When she seeks help for a classroom project, she's thrown into the sphere of a down-to-earth organic farmer and horseman who could really steal her heart…  Landry Mills, successful mega-spokesmodel for a famed Westernwear line, returns to his hometown to regroup and reconsider signing the next contract. Meeting Kelsey explodes feelings in him he wants to make real. But finding out a fancy director's son recently crushed her spirit has him take things slow. What will Kelsey do when she finds out he's a celebrity in his own right? He might not be able to bear it…
When Erika's ex becomes her boss less than a year after dumping her by text, she gets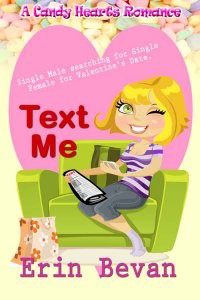 desperate to find a date to the corporate Valentine's dance so he doesn't suspect she still has feelings for him. Though not a fan of texting for the obvious reason, she doesn't have much choice but to tap the keypad in order to gain the attention of the only viable candidate from the classified ads.Grayson made the mistake of listening to his brother a year ago and has regretted what he did to Erika ever since. But his brother's next suggestion just might be his salvation when he takes out an ad for a Valentine's date…and Erika answers. Using a pseudo name and keeping contact to text messages only, Grayson's plans to make Erika fall back in love with him appears to be working…until the date of the dance draws near, and she pushes a meeting—face to face.
Dillon Greenleaf is a member of Mythreal royalty and head of his planet's security. Debutantes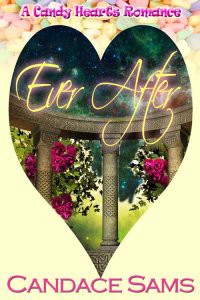 have been chasing him his entire adult life in order to wed a man of power, and he's totally off women in general. But when he meets Keira Foley, an Earth officer, who he suspects is a pirate spy, he finds he quite likes the Plain Jane female.Keira has been pegged brilliant and unattractive by her fellow officers, something she doesn't mind until she meets the hot, royal stud-muffin who believes she is capable of treason against her own world. When they meet again at the Earth Embassy's Valentine's Day ball, Keira however blows Dillon's mind.
Yet, in the midst of trying to find the real traitor, Dillon's match-making grandmother, and a night made for love, Keira and Dillon must decide if they can put aside their differences in time to find a love that will be ever after.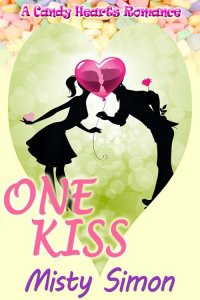 The last place Lorena Weber wants to be on Valentine's Day is a singles party thrown by her newlywed best friend. But how can she say no? She'll give it an hour—two, tops—and then she's heading back to her normal life. But she didn't plan on seeing the one man who had turned her world on its side New Year's Eve with one kiss that opened doors she had firmly locked.Caleb Manning got coerced into attending this ridiculous party by a co-worker. He'll stay for an hour at most and then he'll head home. That was the plan until he recognized Lorena across the room and had to see if that kiss was only New Year's Eve magic or something more.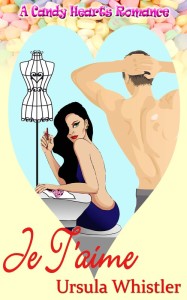 Looking for inspiration, designer Genevieve Hoffman agrees to an apartment swap and heads to the south of France. But when the apartment owner's brother returns from deployment, she finds herself with a man who inspires fantasies rather than fashion.Etienne Gagnon barely made it out of Syria alive during his last special forces assignment. All he wants is a little R&R in the apartment he shares with his sister. But the woman making breakfast in his kitchen isn't his sister. He might not understand a word coming out of her mouth but he has no problem reading body language and likes what she's saying just fine.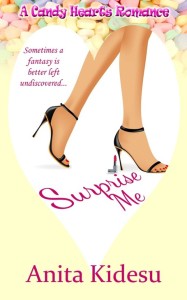 Josie and Carson Sandberg are on the cusp of being empty-nesters. With a cross-country move and Carson's busy work schedule, there hasn't been much time to connect. When gifted with a romantic getaway and challenge that says "Surprise Me", the two embark on a trip that reveals secret desires and more. But sometimes a fantasy is better left undiscovered…
So tell me…what was the best gift you received (or hope to receive) for Valentine's Day?
Check out more ideas for Valentine's Day and all the Candy Hearts on my Pinterest Page
Hop on over to The Wild Rose Press to pick up all the Candy Hearts Romance Stories