How a Girl Wants to spend her Valentine's Day
For Valentine's Day, would you prefer
Check out the Candy Hearts Romances Releasing this week and how to enter to win a $20 Amazon Gift Card. What girl wouldn't want these sweet nothings whispered in their ear…
~Real Love ~ Say Yes ~ Tweet Me~ Me + You ~ Adore Me ~                         ~Melt My Heart~
Click on the cover to find out more about each of the Candy Hearts Romances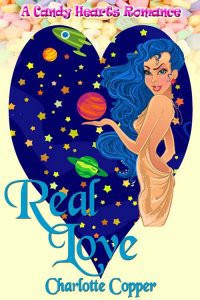 As a young girl, Monda was placed into the tutelage of Mistress Teevac. Trained to use her empathic skills and educated in the ways to please a man, Monda is on her way to her new mate and master when her spaceship crashes. Rescued by a handsome space lieutenant, who literally makes her heart race, Monda's eyes and heart are opened to new possibilities.When Lieutenant Patrick Lancaster looks at the exotic Monda, he sees beautiful not alien. With an instinct to protect her and the desire to have her, he'd be honored to call her his own, but the stars have something else in mind. Or do they?
Darby Malone has trouble saying no. Hosting a children's Valentine party at her recently renovated gallery is the last straw, and the last time she intends to say yes to anything. That is, until she meets Ben, a well-known Cape Cod artist with eyes as deep and blue as the ocean. He stirs feelings in her that have been dormant for too long. Can she afford to say yes to him?
Ben Phillips needs this gallery show. His life has been empty since his wife died four years ago, his paintings the only thing giving him solace. But his style has changed, his art completely different than the breezy shore paintings he staked his reputation on. Can he convince Darby to give him a chance – and to consider him for more than just a place on her gallery walls? Will she give him a place in her heart as well?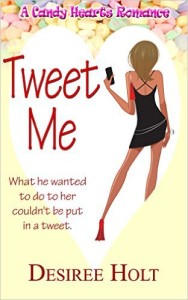 Don't call. Don't text. Tweet me… Married to her work, event planner Avery Kurtz runs her life and her business on a private message feed. She has no time to waste on emails or a love life, and Valentine's Day means just more parties to plan. But when Tanner Voss, best man in Avery's best friend's wedding, is assigned to help finalize plans, her world is turned heart-side up. The hotshot attorney might be a player—he's hit on her before and she avoided that mistake—but he's also surprisingly cooperative, focused on making the perfect choices for their friends, and even on board with her messaging preference. Between the erotic dreams about the sexy litigator and her body urging her to forget caution, Avery is wondering if she was wrong about Tanner and wants him to do more than "tweet me."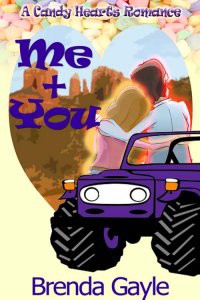 Teacher Lori Tait has always wanted a family, but now she's 40, she's pretty much decided all the good men are taken. Instead, she devotes herself to her students, particularly one little girl whose struggle with math seems inconsistent with an otherwise brilliant and artistic mind. Mark Wilder hadn't planned to become a father, but when a fling resulted in his daughter, Grace, he whole-heartedly embraced the role. Raised in a family of boys, what does he know about women and girls? Once he learns of Grace's inability to comprehend basic math, he welcomes the role of tutor as a way to connect with his daughter; the opportunity to spend time with her sexy teacher is an added bonus. When Lori cracks the mystery of Grace's problem, Mark's world is thrown into turmoil; he's the last person who can help his daughter. He pushes everyone away, confirming Lori's theory about men. Grace, however, has other plans. Using her new-found understanding of math, she sets out to prove to her father and teacher that, together, they add up to the perfect match.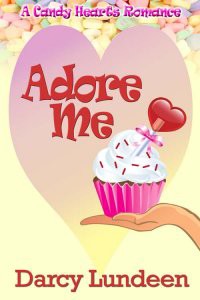 A hacker is targeting Meredith Crismis's struggling new dessert company. But when the tech firm she depends on sends hunky computer expert Vlad Wiznitsky to fix the problem, things begin improving for Meredith, both personally and professionally. First, her relationship with Vlad heats up to the sizzling point, then Meredith's given the chance to snag a wealthy customer who could put her company's bottom line permanently into the black. It seems like a dream come true, until the persistent hacker turns her "Divine Desserts" website into an X-rated marketplace, the wealthy customer demands a discontinued decorative item or else no sale, and her relationship with Vlad begins to unravel under the pressure of her obsession with professional success. For a woman who deals with creating intricate wedding cakes and luscious muffins, life has suddenly become the ultimate recipe for disaster.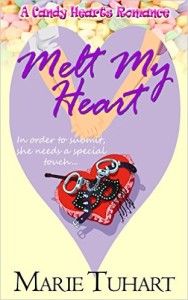 Veterinarian Lexi Mallory wants to submit to the sexy new Dom from the club, but trauma fromher past keeps getting in the way. It's a good thing Gabriel Huntington has a special way with difficult subs and sees the gorgeous Lexi as a delicious challenge. Unfortunately, Lexi fears her inability to relinquish control will finally test Garbriel's patience and he'll end their contract. Can Lexi lower her barriers and allow Gabriel's touch to melt her heart?
So tell me…what's your favorite movie? A good love story? A comedy? Drama? What do you want to cuddle up & watch with your Valentine?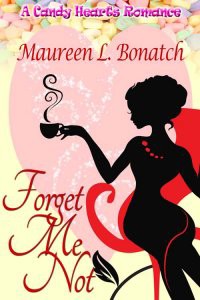 Find out more about my Candy Hearts Story,
Forget Me Not, and enter a rafflecopter for a chance to win a $20 Amazon gift card here. 
Check out more ideas for Valentine's Day and all the Candy Hearts Romances on my Pinterest Page
Hop on over to The Wild Rose Press to pick up all the Candy Hearts Romance Stories