Kathy will be giving away a hand-made cosmetics bag by picking a winner today from one of the comments. So please be sure to leave an email address for her to contact you!
Let's check out this fun & flirty Valentine romance…For Keeps 
                    Meghan Muldoon is at a crossroads: struggling to balance the demands of a high stress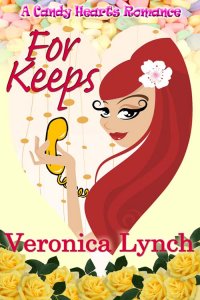 vocation as an advocate for victims of violence and her feelings for Keenan Rossi, a man who wants to make their relationship permanent.
On Valentine's Day, a series of routine crises force Meg to question staying in a profession which fulfills her both professionally and spiritually–or devoting the rest of her life to the one person who completes her.
An interview with character Keenan Rossi                                  from Veronica Lynch's For Keeps
Elegant dining or homemade dinner?—homemade dinner for sure, especially if it's pasta. Shrimp scampi to be specific.
Dancing or daydreaming?—no question about it here, it's dancing. Slow. To Johnny Mathis' Heavenly album. Dark room, candles. Slow burning fire.
Chocolate or Flowers?—I prefer chocolate but my Meggie likes flowers. Yellow roses or tulips. She's nuts for yellow flowers.
Sweet or Salty? Salty for sure.
Your Perfect Valentine's Day Date: See above: shrimp scampi followed by dancing in the dark in front of a fire.
Excerpt from For Keeps:
"Crime Victim Services. How may I help you?"
The caller's voice was low, husky, and exquisitely male. "Do you know the difference between a barracuda and a victim advocate?"
Her heart skipped a beat. "Lip gloss."
"Well damn," Kee muttered. "You already heard it."
"An oldie but a goodie, pal."
"Aren't we all. How you doin' on this gorgeous February day, gorgeous?"
Bringing his handsome face to mind took no great effort. They had worked together for more years than either cared to count. When the relationship progressed beyond professional Meg felt they should keep things under the radar. At first Keenan agreed, claiming he wasn't in the mood tor any crap from his peers about exploring his feminine side. But after a while he began to push for something more permanent. And she wasn't so sure she was ready for that, especially marriage. Meg liked being able to come and go as she pleased, responsible only to herself, and for herself.
Even though she heard the tease in his voice now, she was still smarting from last night so proceeded with caution. "Not too bad. How's by you?"
"Lemme tell you, cara. If I was any better, I'd scare myself."
I was lucky enough to receive an Advanced Reader Copy to give you  My Thoughts about For Keeps:
What a fun, quick read about two successful people who are devoted to their jobs, and each other. Their demanding jobs put a strain upon the time they have for each other but when they're together, they make the most of it. I enjoyed the personalities of the characters. Meg is a strong, independent woman who won't compromise her values, and Kee is the sexy alpha male who doesn't make her. The author does a suburb job of drawing you into the characters with seamless, expressive writing.
So Tell me….How do you know when a relationship is For Keeps?

About The Author: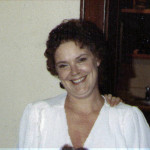 Writing under the pseudonyms Kat Henry Doran and Veronica Lynch, author Kathy Cottrell uses her experiences as a forensic nurse examiner, victim advocate, malpractice insurance investigator and nurse-paralegal for background in her award winnings novels and novellas. For setting, she has chosen her favorite places on earth: the Catskill and Adirondack Mountains, as well as the historic Thousand Islands regions of Upstate and Northern New York State.
When not writing or chasing grandchildren, Kathy spends her time designing and creating tote bags and aprons to custom order.
www.WildWomenAuthorsx2.blogspot.com
 www.ApronsWithAttitude2.blogspot.com
 www.Goodreads.com/Author.VeronicaLynch