So Tell Me…What a Girl Wants
For Valentine's Day, would you prefer
Go on- Check out the Candy Hearts Romances Releasing this week & How to enter my rafflecopter for a $20 Amazon Gift Card. What girl wouldn't want these sweet nothings whispered in their ear…
~You're Tops~ Be Mine ~ You & Me~ Red Hot ~ Sweetie Pie~              Kiss Me Again~
When her husband ran off with a perky, much younger woman, Regina Cox got the house , a decrepit car, and her freedom. Divorced, she plans to remain man-free and focus on her career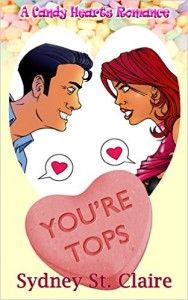 as a writer. Trouble is, the skinny boy next door who used to tease her about her braces is now a handsome hunk and features as the hero in her latest romance novel.Tucker Owen is a Dom with his eye on the new divorcee next door. His fantasies center around draping Regina over his spanking bench. Too bad she's a strong woman and not submissive in the least. But when he learns she writes erotica romance and is having trouble getting the research right, he offers a week-long tutorial that's bound to teach them both a few things.Regina can't refuse all the research she could ask for and no strings sex on top. And with the sassy sub, Tucker soon discovers the pleasure that comes when the topper is topped.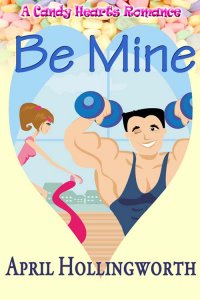 Beth has always loved Mark. He was the boy of her dreams even though she was nothing more than his little sister's best friend. Now he's back from the military and looking at her differently. Though that could be the plate of lasagna she dropped in his lap. A series of mishaps gives Mark opportunity to spend time with her. He is sure that he is the man for her but experience has taught Beth not all men can be trusted. Can he convince her that he wants her to be his for Valentine's Day and ever after?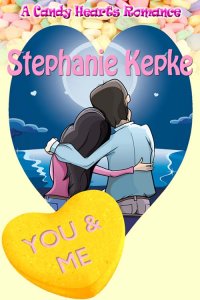 Forty year old Alex Spencer has given up on love. Having escaped five years earlier from the verbally abusive and two decades older, Trent Peterson, her life revolves around her daughter, sixteen-year-old Josie, even if Josie wants nothing to do with her.But with Valentine's Day looming, Alex's high school sweetheart, Billy Leibowitz, whom she kicked out of her life twenty years earlier thanks to Trent's demands, has been invading her thoughts. Alex searches for Billy in vain—it seems as if he's simply disappeared. Suddenly, Candy Hearts, which Billy sent to Alex every Valentine's Day, start arriving in the mail. Is Billy sending the Candy Hearts? Will this finally be her chance at happily ever after?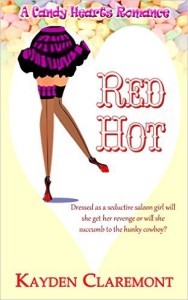 Treena Stanton, artistic coordinator of Sierra's Cowboy Theme Park, wants to exact revenge on Clayton Wagner. She had a crush on him in school, but he never acknowledged her existence. Revenge is sweet but not as sweet as the pleasure of his touch. Strategic accounts manager, Clayton Wagner lost a bet and has to work the next twenty-four hours at his buddy's theme park. But when his "boss for the day" with mouth-watering curves demands he wear a cowboy costume, all he can think about is finding out what's under her petticoat.But when the truth is revealed about their past, will the sparks of passion fizzle or burst into Red Hot flames?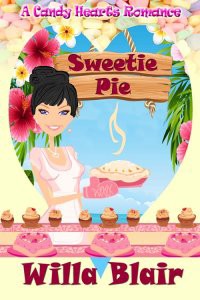 Makenna Stewart flees Scotland for the Big Island of Hawaii intent on making real a cherished dream—a bakery of her own. Hard work and long hours leave Makenna craving some fun in her life. Her best customer, Greek-god sexy surfer Tom may be just what she needs, but she suspects there's more to him than board shorts and a devastating smile. Retired professional surfer and real-estate multi-millionaire Tom Bensford, is there when she opens every morning, but he's not craving her Morning Glory muffins. Fascinated by the dark-haired, blue-eyed wahine with the creamy Celtic skin and devastating Scottish accent, he's never met a woman like her. Too bad he's about to destroy her dreams.To him, it's just business. To her, it's the kind of betrayal she fled Scotland to escape. Can the island magic in Makenna's heritage save her dream and their romance, or will his secret tear them apart?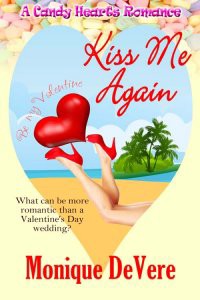 A Valentine's Day wedding on a Caribbean beach! The last thing Riley Flynn wants is to be present at her ex-fiancé's wedding—which should have been hers—but she refuses to give him the satisfaction, despite the nosedive her life has recently taken. Now, if she can only find a plus one to prove she isn't a complete failure.All Sam Rutherford wants is a peaceful life, but his zany neighbor is making it impossible. The woman is a menace to herself, and anyone in her path—he has the dent in his car to prove it. But when she raises those big amber eyes and confides in him, how can he say no to anything she wants? Soon she's invading his life and bungling her way… into his heart.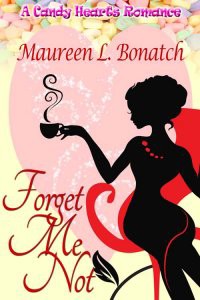 Find out more about my Candy Hearts Romance, Forget Me Not and Enter my Rafflectopter for a chance to win a $20 Amazon Gift Card Here.
So tell me…what is your favorite kind of candy for Valentine's Day, or any day?
Check out more ideas for Valentine's Day and see all the Candy Hearts on my Pinterest Page
Hop on over to The Wild Rose Press to pick up all the Fun, Flirty and Falling in Love Candy Hearts Romance Stories! Be sure to enter their Rafflectopter for a chance to win a kindle fire!