Please welcome my guest,Judy Ann Davis and her newest release, Sweet Kiss! 
Judy Ann and I have a lot in common. We are both from PA, write for The Wild Rose Press and have a release with The Candy Hearts Romance Series. I've delved a little deeper into Judy's thoughts on Valentine's Day with a quick interview. Let's check out her answers, her delicious new release and my thoughts on the story!
Hard-working Kate Clark opens a thriving coffee shop that quickly becomes the local hang-out for students and the community. Her one wish is to eventually buy out her sister's share of the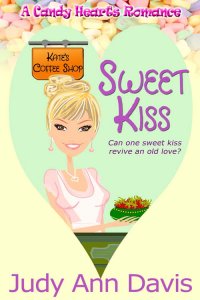 old Florida home they inherited. However, Violet is need desperate of cash and has other plans.
Tappe Vanderberg, Kate's childhood friend and high school sweetheart, has sold his lucrative internet security business to return to Little Heron Shores and fulfill his dreams of owning a marina. Now the handsome Dutch-born businessman is making waves with single women all over town—including loony, post mistress Eva May Poole who's in search of husband number three.
But it's Kate Clark who's wreaking havoc with Tappe's heart, not Eva May. Can he find away to shake the dingbat post mistress and convince Kate to give him a second chance and the sweet kiss he remembers from an earlier time?
Let's ask Judy Ann about her favorite things for Valentine's Day:
Elegant dining or homemade dinner? Elegant Dining
Dancing or daydreaming? Daydreaming 
Chocolate or Flowers? Flowers
 Sweet or Salty? Sweet 
Your Perfect Valentine's Day Date: My perfect Valentine's Day would be going out to dinner with my husband after receiving flowers and ending the evening with a perfect sweet dessert like creme brulee.
Excerpt:
Tappe picked up the grimy jar of candy hearts. "No way! I can't believe Fay saved your candy hearts." He twisted off the lid and shook one into his hand.
"Neither can I. Don't you dare put that into your mouth. Those candies are over a decade old!"
"So? Sugar doesn't spoil."
"Okay, go ahead. Eat it. Poison yourself. Why should I care?" Kate said drily. "Just don't call me in the middle of the night." With a shake of her head, she turned back to the stove, took out a cold plate from the freezer, and plopped a teaspoon of the liquid from the bubbling pot on it, then ran a finger through the mixture to see if the jam stayed parted and stable, refusing to run together. She removed the pot from the stove, set it on the table, and started filling the pint and half-pint jars.
"You don't mean that." He dropped the candy back into the jar, and came up behind her. He started nuzzling her on the side of her neck.
"Do you realize I'm working with hot liquids?" She tried to be stern as she squirmed away still holding the hot pot. She could never quite pull off reprimanding
Tappe, especially when he was on a roll. And he was on a roll.
"Not as hot as you are. Want to make out?"
Kate looked at him askance. "Now? Here? Are you sane?"
"Yes, I'm fairly lucid. But if your answer is a no to making out, then can I lick the pot instead?"
"If you promise to quit licking my neck."
My Thoughts about Sweet Kiss:
I love small towns and incorporate them into much of my writing, hence why I was drawn to Sweet Kiss. The characters are one you might expect to see in your own home town, at the coffee shop & bakery where Kate works. Her little shop was described in such detail that I could envision it perfectly in my mind, and it had my mouth salivating for the baked goods! Two sweethearts, who still carried the flame of their youthful romance must overcome misunderstandings, gossip and family drama to find love. A heartwarming story to get you in the mood for Valentine's Day.
Judy Ann Davis Website   Amazon Buy
Blog   Facebook   Twitter   Goodreads   TWRP    Amazon Author    Newsletter
About the Author: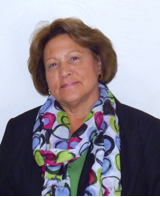 Judy Ann Davis began her career in writing as acopy and continuity writer for radio and television in Scranton, PA. She holds a degree in Journalism and Communications and has written for industry and education throughout her career.
Over a dozen of her short stories have appeared in various literary and small magazines, and anthologies, and have received numerous awards.
When Judy Ann is not behind a computer, you canfind her looking for anything humorous to make her laugh or swinging a golf club where the chuckles are few.
She is a member of Pennwriters, Inc. and Romance Writers of America, and lives with her husband in Central PA.