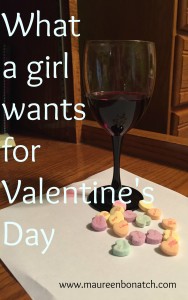 Thank you for joining in the weekly celebration of the Candy Hearts Romance Series and the countdown to Valentine's Day.
The results are in for What A Girl Wants For Valentine's Day. 
You had a taste of these short, sweet stories over the past six weeks to get you in the mood for love.
Want a quick review of the Candy Heart Romances? Check out this video by Sydney St. Claire:
Video by Sydney St. Claire
Without further ado, here are the results from the Countdown to Valentine's Day…
Your Valentine would like to spend the day together hiking. Then she'd prefer that you cook dinner at home for her, and then cuddle on the couch to watch a movie together. She'd adore a gift of flowers or something else extra special.
For all the specifics-  check out the results below!
(32%) Chocolate or ( 39%) Flowers (29%) Other
Other included: A living breathing hunk! A night on the town. Out to dinner. Some extra sweet attention. A gift certificate. Jewelry. Something special like a TV or DVD movie/series
(36%) Dinner out or (67%) Cook for me at Home
(29%) Out to the Movies or (71%) Cuddling on the couch 
(57%) A Jewelry Surprise or she wants to (0%) See it with her own eyes (43%) Other
Other included: Roses. A Horror Movie Gift Basket. Rest.
(20%) Dancing the night away or take a (60%) Hike during the day (20%) Other
Other included: Lounging in the forest with a basket of sweets.
( 83%) Just the two of us or the ( 17%) More the Merrier
So tell me…how do you plan to spend your Valentine's Day? 
Still not sure what to do? Check out more ideas for your Valentine's Day and all the Candy Hearts Romance Books on my Pinterest Page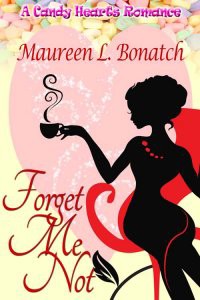 Don't Forget to pick up your copy of         Forget Me Not 
"Cole wait." Despair leaked into Sabrina's plea.
 He glanced toward the papers on the table and sighed.                                  "I waited for years, Rena. It's you who waited too long."
The Wild Rose Press  has all the Candy Hearts Romance Stories and more.