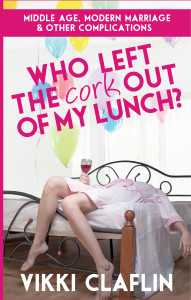 Are you a woman who has ever looked in the mirror and thought, "How did my mother get in my bathroom?" Have you gone through years of night sweats and seismic mood swings, leaving you with a metabolism that forces you to choose between wine and carbs (so you haven't had a bagel in eight years)? Did you wake up one morning in someone else's body? Then you will love this book.
If you ever made a regrettable hairstyle choice, finally conceded that thongs make you look like a Weeble in dental floss, or wished your Hubs would learn that grabbing your boobs every time you walk past him with a load of laundry is not foreplay, then you will love this book.
Who Left the Cork out of My Lunch? is chock-full of funny, informative how-to lists, hilarious advice columns, and sharp personal anecdotes that cover subjects from menopause (are we done yet?), empty nest syndrome (sob!), and grandchildren (yay!), to sex (better after fifty), marriage (he said what?), age-appropriate fashion (what does that mean?), cosmetic intervention (to Botox or not to Botox?), diet fails (#972), beauty tips from Mom (still true), and confidence (fabulous after fifty).
Laugh along with author Vikki Claflin and her amusing advice on how to let go of our youth and start rocking our middle age. Are you ready?
My Review:
Despite being quite a bit younger than the author's determined age of those who would find this book funny, and I'm far, far, far! from grandchildren (I hope! Ack!)- I still enjoyed the book, and easily related to much of Vikki's stories.
Proving that 'girls just wanna have fun' at no matter what the age, the author shares personal stories and hilarious insights about relationships, marriage, aging and much more. Each chapter is written in a blog length post, so it's easy to sneak in a little at a time when you need a break – and a laugh. Proving laughter is the best medicine- especially if accompanied by a glass of wine.
I enjoyed this book as it unearthed the humor is day to day life- which is the perfect way to age gracefully- and to enjoy every new adventure in life.
About the Author:
Vikki Claflin is an award-winning humor writer and blogger, public speaker, and former newspaper columnist who lives in Hood River, Oregon. Her celebrated humor blog Laugh Lines shares the hilarious ups and down of midlife. She believes that laughter, a good glass of wine, and an econo-sized box of Milk Duds are the path to true Zen. Vikki has been featured on the Michael J. Fox Foundation website, Erma Bombeck's Writer's Workshop, The Huffington Post, Scary Mommy, Better After 50, and Funny Times Magazine. She also received a BlogHer14 "Voices of the Year" Humor award. Vikki recently released her book Shake, Rattle & Roll With It: Living and Laughing with Parkinson's, selected for Amazon.com's Editor's Favorite Books of 2014. It chronicles her hilarious and sometimes poignant journey living with Parkinson's disease.
Visit Vikki Claflin at:
Blog:
Facebook: 
Twitter: 
Goodreads Author Page: 
Find Vikki's Book: