MOON, MIST, & MAGIC
Cover Reveal!
A PARANORMAL ROMANCE ANTHOLOGY
Coming August 4, 2016 – Pre-Order Now
We asked for your opinion on the cover for Moon, Mist & Magic
and —we listened. 
The day has arrived to reveal the beautiful cover in all it's glory and give you the chance to pre-order it now for
.99 cents!
Charity Benefit:
All profits from this anthology will go to charity to benefit the World Wildlife Fund!
Get ready to be enchanted by mythical beasts, magical creatures, and moonlit nights. Enjoy your favorite author, and perhaps discover someone new, in these five fantastic tales of paranormal romance woven with moon, mist, and magic…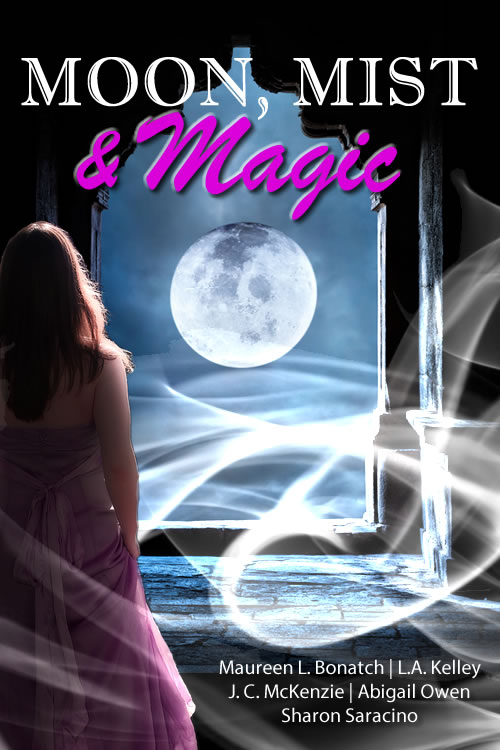 Witch You Were Here, by Maureen L. Bonatch
Featured Creature: Witches
Lucy is a witch with a successful business righting magical mischief. A call for help from her high-school heartache, Shane, prompts Lucy to manage his magical mayhem herself. No longer a nervous, hormonal, teenager, Lucy takes the case to force an apology and bury her past humiliation. To her surprise, Shane insists he couldn't forget Lucy—because she hexed him ten years ago. Will Shane and Lucy put their past behind them, or will the spell prove permanent?
About Maureen
Hello! In case you haven't heard it before…
Maureen writes stories in the beautiful state of Pennsylvania that boast laughter, light suspense and something magical in the hope of sharing her love of finding the extraordinary in the ordinary world. She writes Paranormal Romance and Fantasy.
A Ghost of a Chance, by Abigail Owen
Featured Creature: Ghosts
What's a girl to do when her brother's ghost appears asking for help? If that wasn't bad enough, finding her not-dead-yet brother's body before he becomes permanently spectral isn't her only problem. Josie can't save him on her own. The only person who can help is the last person who would want to. Bryce Evans, a man she once wrapped hopes of her future around, can't stand to be near her. How can she convince him when her evidence is a ghost he can't see?
About Abigail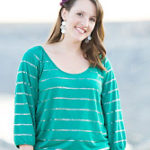 Award-winning paranormal and contemporary romance author, Abigail Owen resides in Austin, Texas, with her husband and two wonderful children. She attempted to find a practical career by earning a degree in English Rhetoric. However, she swiftly discovered writing without imagination is not nearly as fun as writing with it.
Dangerous Dreams, by J.C. McKenzie
Featured Creature: Dragon Shifters

As a dragon shifter in hiding, Lara Stone wants nothing to do with others of her kind or finding a mate. No way, no how. She's perfectly content to work for a security company, masquerading as a simple mage. When the leader of all the dragon clans personally requests her as a bodyguard, Lara fears her secret is blown, or worse. What danger could possibly make Rafael Dragoi, the powerful Astarot, seek protection?
About J.C.
J.C. McKenzie is a book-loving, gumboot-wearing, unapologetic science geek. She's from an island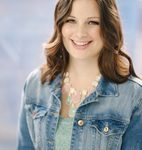 in the middle of a temperate rainforest, and loves the ocean. She currently lives in land-locked, rural Saskatchewan, which holds a magnificent beauty of its own, but she still finds herself dr
eaming of the deep blue and missing it terribly. J.C. writes predominantly urban fantasy and paranormal romance with sassy heroines and brutish alpha-type men.
Myths and Legends 101, by L.A. Kelley
Featured Creature: Succubus
Flickering lights. Strange drifting shadows. Unnatural cold. Anthropology professor Jim Calloway is convinced the recent eerie phenomena at Octavian College are due to his overactive imagination until he meets Keilana Yamada and her eccentric grandfather, Toshi. Dazzled by the beautiful Keilani, Jim volunteers to help hunt for an ancient evil roaming the ivied halls. Can a mild-mannered academic find his inner demon hunter and a way into Keilani's heart? Or will a supernatural predator with an insatiable hunger destroy them first?
About L.A.
Fantasy, adventure, humor, and romance with a touch of sass.
The Keeper, by Sharon Saracino
Featured Creature: Secret Surprise!
When a stranger lands on her slab, poisoned with silver and reeking of vampire, Medical Examiner Olivia Duncan fears someone's discovered her dangerous secret. Enter Nick Alexios, a mysterious man with a hidden agenda of his own. Olivia ignites his passion and challenges his loyalties, making him question his duty. Nick might be Olivia's salvation…or her downfall. Will honor-bound promises drive them apart or unite them against threats from both near and far?
About Sharon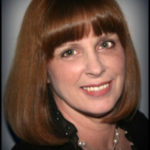 Sharon Saracino was born and raised in the anthracite coal region of Pennsylvania and resides there with her long suffering husband, funny and talented son, and two insane dogs. When she is not reading, writing, or enjoying photography and genealogy, she brews limoncello, dreams of moving to Italy, and works as a Certified Registered Rehabilitation Nurse.
Don't Forget to grab your copy of
Moon, Mist & Magic Today!