It's that time of year- the RWA conference is upon us!
The excitement is palpable in all of the writer's loops. RWA's (Romance Writers of America) conference is coming up. This year it's hosted in San Diego from July 13th through the 16th.
Problem is, I'm green with envy, because I'm not going this year. 
I did get to experience an awesome adventure last year, when RWA was in New York City from July 22nd through July 25th and this country mouse visited the big city. 
RWA 2015 NYC
This was my first writing conference.
So sure, why not choose the biggest romance writing conference, hosted in a city this small town girl never visited, to make my conference debut?
This was my first time traveling alone.
I don't like to travel. I jokingly refer to myself as 'directionally-dysfunctional' and haven't been able to master packing a suitcase without bringing my entire closet.
That is—until the desire to attend RWA 2015 motivated this travel-phobic, introverted writer to venture to New York City.
Alone, to room with two ladies I'd never met before.
The love of writing (and the desire to meet my long-time critique partner in person) pushed me through my anxiety and insecurities.
(Okay, I'll be honest, there was still a lot of anxiety.)
Anne, my writing BFF & traveling connoisseur, assured me she would hold my shaking hand and help me navigate my way from the airport at NYC to our hotel.
I wrongfully assumed once I got through the airport security and waited to board my plane, that I'd conquered my biggest challenge.
I was wrong.
My flight was delayed again, and again—and again. Moving me hours past our designated meet time where we planned to share a taxi from the airport. Luckily, Anne, and our other roommate, patiently agreed to wait for me.
Finally I boarded the Plane…
…and the delays continued. I can assure you, no one who sits down and buckles into their seat on a plane wants to hear an announcement stating the pilot is sick and they're waiting on a replacement.
Then to hear that said replacement announce there was some trouble with the plane, but no worries, he just needed to cnt/alt/del it just like a computer.
Yeah…that eased my mind.
I met up with Anne and Samantha and after an adventurous taxi ride; we were relieved to arrive at our hotel. We finally collapse into the room and notice the glass-enclosed. Voyeur shower.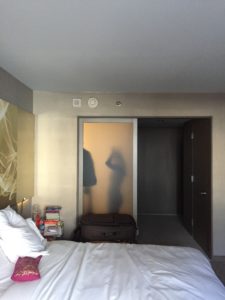 I did mention we just met, didn't I?
It seemed we were going to have to leave our modesty at the door.
Escalators and elevators—oh my!
I don't really like escalators and elevators all that much. So after registering, I was a bit concerned that it was recommended that I watch an instructional video on how to use the elevators at NYC Marriot Marquis Times Square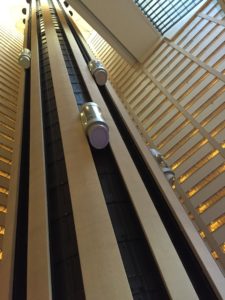 And I'm not even going to discuss how much I had to overcome my escalator discomfort with the number I was forced to use (and the number of times some broke down because a dress, shoe or other item got jammed into one of the multitude of escalators) just to get to the conference sessions.
From the first conference I attended- aptly entitled First Timers Orientation, I knew I found my people. (Since it was a romance writers conference, I really thought we'd be called virgins, lol)
The acronyms I had to explain to all my non-writer peeps were used in everyday conversation—MS, WIP, POV, HFN, CP, HEA—These people got me.
I did learn one new acronym. CWD. Anybody? You'll find the answer at the end of my post- and it's something I've been guilty in my writing.
The sessions were beyond amazing. There was so much information in one place. I walked around as a 'fan-girl' gaping at authors I revered. It was awesomely overwhelming.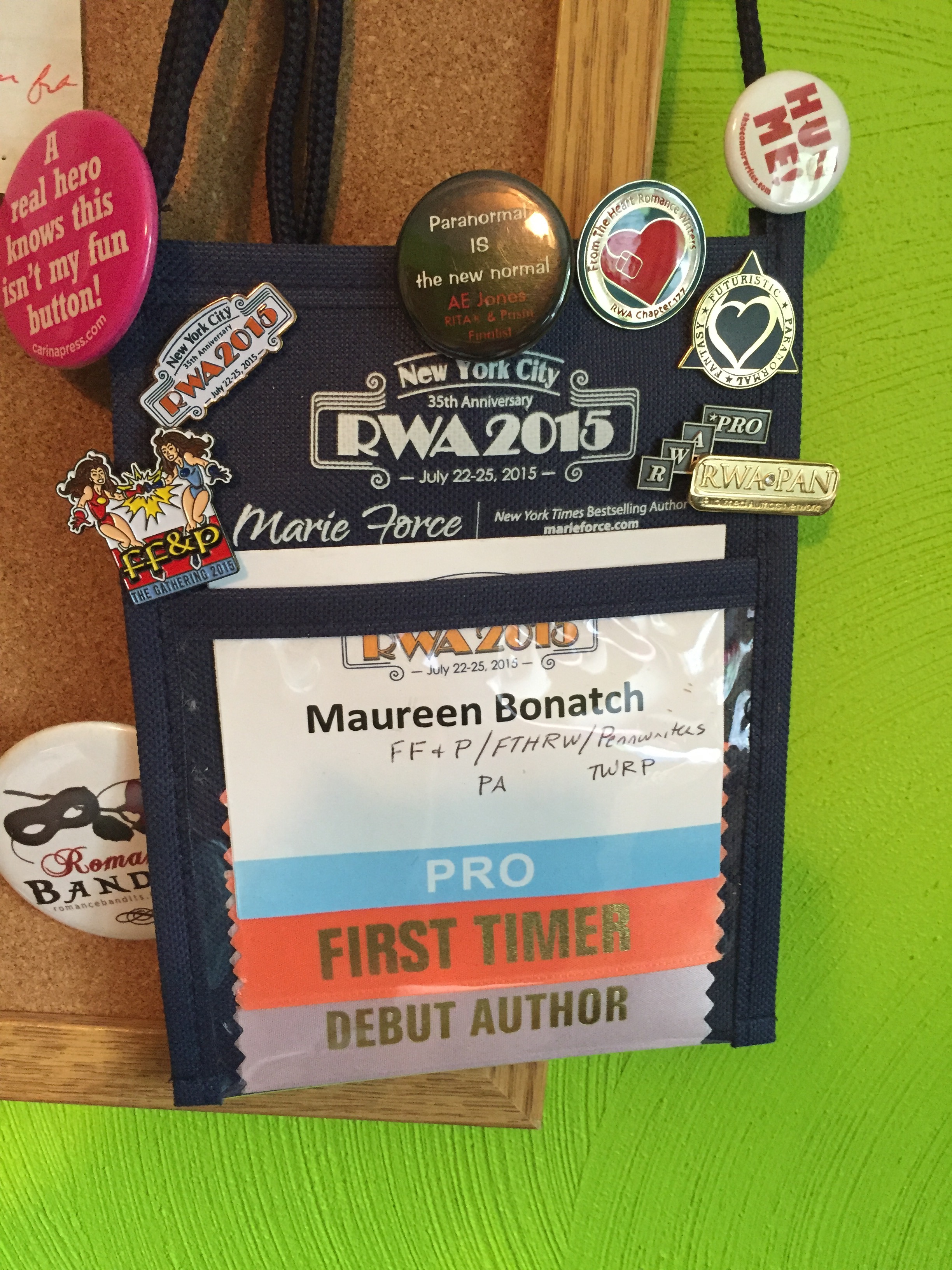 I had no idea how much I still wanted ribbons. I assumed the desire to accumulate as many as possible faded with my high school years- I was wrong.
The first thing one looked for when they met someone new was at the number of ribbons dangling from their name tag.
Did I mention the Free Books?
There isn't much more painful to a book lover than being unable to take all of the free books offered. I had no idea. When you're flying home, and have limited suitcase space, accumulating too much sway isn't an option.
So we immediately determined how much it would cost to mail books home. This enabled me to bring home more books, but not all that I wanted to take. Limited time, and managing funds, forced me to miss out on more books and authors than I wanted to admit.
Rita and Golden Heart Awards Ceremony
The ceremony was something to see. Even though I didn't have a book in the running, I lived vicariously through the nominees, and waited with eager anticipation to discover the winners while dreaming of the day I might enter a book and get to walk the red carpet onto the stage.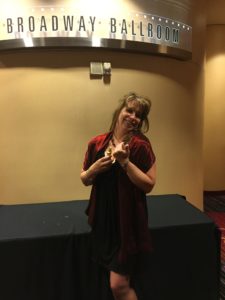 I still received a Rita award. Granted it was chocolate, and didn't last
long because it was delicious. We did take the time to snap some photos of ourselves receiving our chocolate Rita.

Despite all the excitement of NYC, the huge conference and the wonderful writing sessions, the best part of the entire conference was getting to meet my writing BFF, Anne.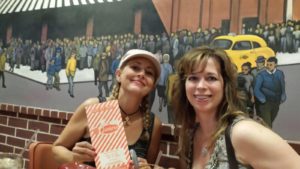 Did you ever push yourself to do something you never thought you'd have the courage to do? Click To Tweet
What inspired you to make the leap?
Answer: CWD= Chicks with Dicks. No, it's not what you think! It means when you are writing from the male point of view, but your man sounds like a female. Remember that most likely your hero isn't going to notice the pattern on the new blinds or talk in flowery, verbose sentences.