Welcome to The Wild Rose Press Summer Treats & Reads Blog Hop
The Wild Rose Authors are presenting a bouquet of blogs dedicated to surviving and thriving during the summer heat. Each blog gives you a treat—a recipe, a summer life hack, a vacation spot—as well as a fantastic selection of books to read.
In addition, enter the Wild Rose Summer Treats and Reads contest to win the grand prize of a Kindle Fire–donated by The Wild Rose Press. You can read posts and enter contests from July 22 through July 30. Winners will be announced notified the following week.
Many authors are offering additional prizes on their own blogs, so visit as many as you can.
I'm so glad you stopped by to join me on a magical adventure that stems from childhood and provides that same feeling of freedom and escape from the daily worries of life- bicycling. 
Bicycling Opened up new roads
When I was a kid, I practically lived on a purple bicycle. It was the closest thing to flying and way faster than walking. Although I enjoyed it, for the most part, it was a means of transportation.
Then I grew up. 
Once I got a car, I didn't ride a bicycle anymore, I didn't need to. Bicycling was for kids, anyway, wasn't it? 
Then, a few years ago, my hubby decided to begin bicycling in addition to our walking routines as another form of exercise. I was wary to join him.
I hadn't been on a bicycle in….many, many years. I was older now, and the ground seemed much further down than it had on the small bicycle of my youth. Plus, I was more aware of how I could break things. Ie: bones & other body parts.
Then there was the whole thing about using hand brakes that had me visualizing myself becoming airborne over the handle bars if I pressed too quickly. 
Even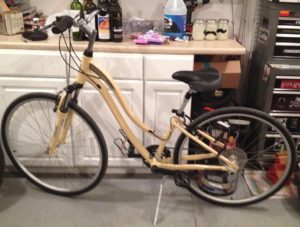 tually, I relented and got a bicycle. Despite my reservations (and the lack of bicycles with the brakes on the pedals like the old-fashioned ones)
I didn't choose a purple one, but instead choose one that resembled the bicycle I remembered my older sisters and mother riding.
I graduated to the adult bicycle. 
Bicycling Gave me Wings
Once I got the hang of it, I couldn't believe I hadn't considered the fun of riding a bike. Click To Tweet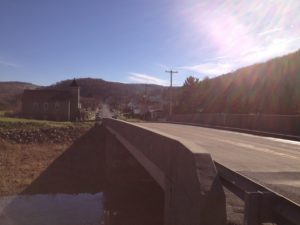 I was able to explore new places in an area I lived in for years, that I hadn't even realized existed. 

I gained a better appreciation about the beauty of Pennsylvania

My hubby and I grew closer as we explored the countryside together and found new bike trails 

I've viewed hidden wildlife up-close. Such as a turtle, deer, a porcupine, a multitude of chipmunks, an occasional groundhog, and unfortunately- too many little snakes. 

I gained new muscles, and endurance, but most of all- it was as if I'd rediscovered my lost youth 
The Only Other Way I Can Escape Better than on a bicycle is Through Books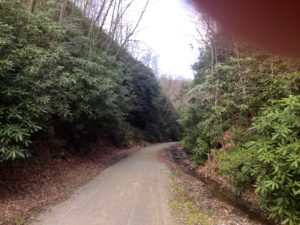 When I'm on a bicycle, my mind can wander (except for examining all of the sticks on the ground to make sure none are snakes!). 
My chores and responsibilities are blown away as the wind whips through my hair (okay, around my helmet- I am still doing a little 'adult-ing' & worrying about breaking things.) 
My muse comes alive and I work through story lines, as I enjoy the beauty surrounding me. If you've read any of my stories, (Especially Destiny Calling) you'll see that I incorporate some of my countryside into the setting and the stories. 
Occasionally there might be a bit of a sinister edge to my stories  of the woods, but that's all part of the magical mysteries hidden within the foliage.
I've only ever achieved such peace through writing or reading books. It's a joy to discover that something so simple can reap such rewards. 
What's your favorite childhood pastime? Do you continue to do it today? 
Answer the question in a comment below for a chance to win your choice of one of my ebooks. Winner will be randomly drawn on
Friday, July 29th and will have 48 hours to claim their prize.
Be sure to enter The Wild Rose Press Rafflecopter for your chance to win a kindle fire Click To Tweet
Don't forget to visit the other blogs for a chance to win more prizes!