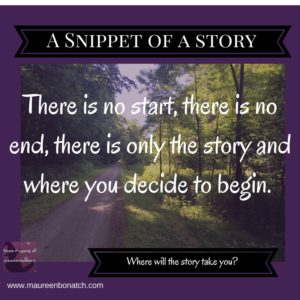 The dark, empty home office greeted me with silence and the blinking computer cursor. I rubbed my bleary eyes to erase the early morning hour. An email from Anne, my sister-from-another-mister, waited with an email prompting me to get out of bed. I smiled. "Hello, Dollface."
I wouldn't call my long-time partner in crime Dollface in person. We'd only met once; at the last conference I attended before going deep undercover. Now email was the only place I felt secure talking to her without worrying who was looking over my shoulder—or sticking a knife in my back.
Not Just a Pretty Face
Anne looked like a perfect, petite doll—with hard-as-nails knife skills. Together we could've been the next Cagney and Lacey. If we weren't forced into a hiding after that day.
Before I could respond and commiserate about our ongoing struggles of living a life of lies and deceit, I noticed another email.
It was from Tennessee—where Anne lives. The plot thickens. Coincidence? I didn't believe in coincidences. It looked like a clue to discovering who ratted us out.
I frowned at the subject line. It boldly referenced the reason I took an alias. The reason my normal life was no longer…normal. Accident or not, after you murder someone, I guess your life will never be the same.
The tip off about the hit was from, Clark. Clark—one of their songs had been playing the night it went down. Clue number two? A red herring? Or a veiled threat?
I'm An Old-School Crime Stopper, not a Perp Popper—Right?
Before that day I'd been compared to an old school gumshoe detective. But that was in the past.  My current gig wasn't scoring me the dough required for revenge—but I wasn't a cold-blooded killer. I leaned in, unable to resist exploring the opportunity laid out before me.
Could be that killing was in my blood. That and sky-high cholesterol from the only shit food I could afford. It would be hard for me to determine my true nature without divine guidance from a stellar group of sleuths. But I didn't need them. Too many friends only ended up enemies.
A Killer by Nature, or Nurture?
I sipped my cooling coffee and pondered the signs pointing to the obvious conclusion. I could benefit from cold hard cash to hone my new life. Lately it had been peppered with dead bodies anyway. All in the name of protecting my innocence, of course. Not to mention the chance to hook up with my old partner in her home state.
We mobsters do live a solitary life. Getting to mingle amongst like-minded people is good for the soul. Luck wasn't generally on my side…but not throwing my hat in the ring for a chance at getting paid for the killing I'd be forced to do anyway would be a crime.
30 SECONDS BEFORE BLURB:
Blake Herro is a cop in the Cleveland Police Force. Ever
since he was a child he wanted to do right by the city he loved by cleaning up
the streets and protecting its citizens. Red, a notorious mobster, has other
plans.
On a bitter December night, ten police officers are drawn
into a trap and killed by Red's followers. Blake wants to bring down the Mob to
avenge his fallen brothers and to prevent other cops from being murdered.
Except the only way he can do that is by infiltrating the Mob.
Every minute he's with these mobsters he's in danger.
Around every corner lies the threat of coming face to face with a gun. Will he
make it out of the Mob alive or will he be their next victim?
BUY LINKS:
To celebrate, 30 Seconds, the follow up story, is on sale for 99 cents!


Sale Oct. 21st – Nov. 4th
SALE LINKS:
BIO:
Chrys Fey is the author of the Disaster Crimes Series (Hurricane
Crimes and Seismic Crimes), as well as these releases from The Wild Rose Press:
30 Seconds, Ghost of Death, and Witch of Death. Website / Blog / Facebook / Twitter
Now please hop around to the other participants: