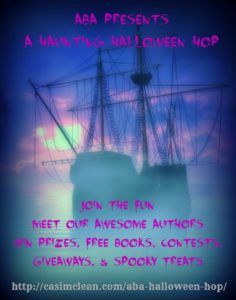 Welcome to ABA's
Haunting Halloween Hop
Come join our Halloween Brew!
Prizes, Amazing Authors, Great Recipes, Free Books!
Hop officially begins on October 24th
Back in the day….
The first year I had a store-bought Halloween costume I went as I Dream of Jeannie. The costume came complete with the cool plastic mask.

Can't Touch This
I was, as usual, behind the times since the show was wrapping up not long after I was born. But she was the first character who could do magic and still look sexy doing it. Until then, any character capable of magic was depicted as an old, ugly hag—not cool.
I so admired those cool harem pants she wore. (Thank goodness they came in fashion in the 80's and I rocked those bad boys until they went out of style. Any MC Hammer fans? Can't touch this!) 
Plastic Masks Were So Cool
No more homemade ghost, hobo or cat costumes that served as my usual go-to garb. I wanted the real deal.
A plastic mask with tiny eye-holes you could barely see out 

The rubber band digging and tangling in your hair

The absent mouth hole that made it near impossible to sneak a piece of candy into—let alone breathe

The weird-looking plastic shirt

(Seriously? What was up with that?)

And yes…the make-shift harem pants that required you wear real pants underneath in case the plastic cracked & fell apart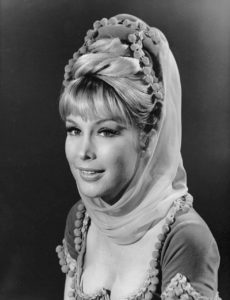 …ahh, yes, it was perfect!
 Even wearing my rose-colored classes, my hazy, warped, childhood memory looks nothing like the real deal.

The Scary thing is that it appears plastic masks are making a come back. I saw a few in the stores this year already. 
Witch You Were Here
I was finally a genie…or a witch…I didn't care, what mattered was, when I wore this costume…I could do magic.
Plastic #Halloween Masks—love them or leave them back in the day?
Click To Tweet
To get you into the spirit of the season. You have a chance to win a copy of the anthology Moon, Mist & Magic. It features my story, Witch You Were Here, plus four more great stories. Leave a comment re:
Did you ever rock a plastic mask in your Halloween Costume? What was it? 
Don't forget to enter the rafflecopter and follow the hop for a chance to win more great prizes!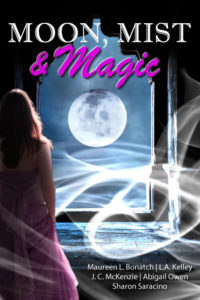 Get ready to be enchanted by mythical beasts, magical creatures, and moonlit nights. Enjoy your favorite author, and perhaps discover someone new, in these five fantastic tales of paranormal romance woven with moon, mist, and magic…  
Witch You Were Here, by Maureen L. Bonatch                  Lucy is a witch with a successful business righting magical mischief. A call for help from her high-school heartache, Shane, prompts Lucy to manage his magical mayhem herself. No longer a nervous, hormonal, teenager, Lucy takes the case to force an apology and bury her past humiliation. To her surprise, Shane insists he couldn't forget Lucy—because she hexed him ten years ago. Will Shane and Lucy put their past behind them, or will the spell prove permanent?
Amazon | Barnes & Noble | Chapters | iTunes | Kobo | Smashwords

a Rafflecopter giveaway