You may recall the recent awesome anthology I'm in with four other authors entitled, Moon, Mist & Magic. You all helped vote on the cover for the anthology, designed by none other than Abigail Own of Authors on a Dime.
Well, my friends, Authors on a Dime has done it again! My witch Lucy, from Witch You Were Here, wanted a cover all for herself, so without further ado, let me share the beautiful cover for my story in the anthology, Witch You Were Here. 
But first, allow me to remind you about the story…and keep you in suspense for just a tiny bit longer. 
Witch You Were Here, by Maureen L. Bonatch
Lucy is a witch with a successful business righting magical mischief. A call for help from her high-school heartache, Shane, prompts Lucy to manage his magical mayhem herself. No longer a nervous, hormonal, teenager, Lucy takes the case to force an apology and bury her past humiliation. To her surprise, Shane insists he couldn't forget Lucy—because she hexed him ten years ago. Will Shane and Lucy put their past behind them, or will the spell prove permanent?
Excerpt:
     "So you're saying you forgot what you did to me?"
     Lucy started at his cocky demeanor. The high school grudge would need to be buried before she could act as his enchanted guide. Otherwise she might be tempted to overlook it if he accidentally spelled off a toe or two of his own during his transition. "What I did to you? What are you talking about? How about what you did to me?" Empathy temporarily forgotten, anger bubbled to the surface. She tapped her finger against her chest. "You're the one who taunted me and made my life so miserable that I had to change my name."
     He sputtered a protest. "That wasn't me."
     "Yeah, right. You can lay on the charm with the other ladies, but it won't work on me. Remember, I'm a witch—"
     "How could I forget?" Shane rose to his feet and braced hands on his hips.
     "Apparently you did," Lucy scoffed. "I'm a witch, so I don't forget…anything. Ever."
     A scowl twisted his face. "Well, neither can I, thanks to you." He removed his suit jacket and threw it over his chair. He unbuttoned his shirt.
     Lucy's mouth snapped open. One by one Shane released the buttons to reveal the tank top he wore underneath. The thin fabric emphasized the defined muscles of his chest. She swallowed. "What are you doing?"
     "Providing you with a visual reminder," he snapped. "Maybe this will stir your memory."
Cover Reveal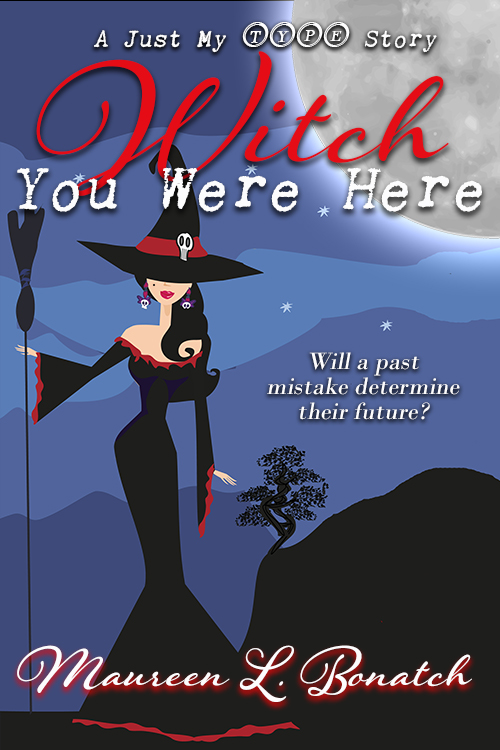 Isn't is just gorgeous? I might be biased, but I love it. Thanks, Authors on a Dime! 
P.S. If you attended the Thanksgifting Facebook party on Tuesday you would've gotten a sneak peek at the cover, otherwise, my newsletter peeps always have first dibs to this kinda stuff (cover reveals, sales, blog tours with prizes etc.)
If you're not signed up for my newsletter, you should be, so you don't miss out. Sign up right here.
Don't worry, I never SPAM you and only send out a newsletter every month or so, unless I have something extra special to share.