So many times, authors are asked, "Where do you get your ideas for your stories?" For me, I think the easier way to answer this question might be to tell them where I don't get ideas. Because unlike many people who say how they've got a book in them that needs to come out. I have countless books in me vying to get out All. The. Time.
I mean, seriously, sometimes it's a miracle I can socialize with normal people. (aka: non-writers) But since this week the #MFRW is about Story Inspiration, let me give you a quick peek into the deep, dark corners of my muse.
Look—A Squirrel!
My attention span is fueled by too much coffee and distracted by every shiny object, unusual phrase or interesting visual. I'm constantly collecting sticky pads, notes on my phone, and cruise on a short trip to stimuli overload daily. It's only a matter of time before I'm forced I rush to the computer to purge onto a blank page.
Party With The Muse
My vat of story inspiration is like one of those movies where a small, intimate party quickly morphs out of control. You think it's just going to be a small get together, with a few people. Before you know it, the music is blaring way too loud, everyone is talking at once and the house is bursting at the seams.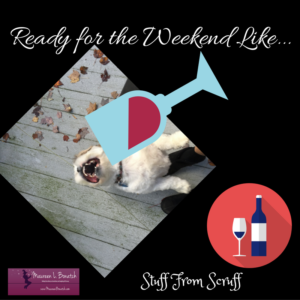 There are people shoving their way in, or lurking in the hallways that you don't remember inviting.
You're chatting it up with your friend, "Hope", having a good ole time, when you notice that your other friend, "Abigail" is vying for your attention—and who is that woman in the corner glaring at you because you haven't gone over to let her introduce herself yet?
So…got #story inspiration? Yep, plenty. From too many sources to name.#MFRW
Click To Tweet
When the Party Gets Stagnant
Yet, there are times, when I'm immersed in a story and I'm stuck at a part that I don't know what is going to happen next. (panster here!) I do have a few tricks that help get the muse flowing.
Take a ride on the back of hubby's motorcycle
A bicycle ride

Plan time early in the morning when my muse is most fresh

Turn on that faucet and just start writing—the words usually flow

Have a glass of wine—hey, it's relaxing and sometimes the muse just needs to unwind (okay, this is probably starting to sound a little weird talking about 'the muse' like it's another entity- but if you're a writer you might understand that it kind of is…but not in a crazy way. Well, not usually…)
Looking for an excuse, or a drink, to join in




the party? Stop by the Last Call with Hope in Destiny Calling



What Inspires You to Pursue Your Passion? Let me know in the comments, because nobody likes to drink alone.
Party on Garth—with the Muse—and Find Out Where Other Author's in the #MFRW Blog Hop Find Their Story Inspiration
&nbsp