When author friend, Judy Ann Davis told me she had a new release to spotlight, and that her story featured a ghost—I was all in. Her newest release entitled, Four White Roses, is a contemporary romantic suspense with paranormal elements and comedy. Now tell me, with that description how could this not be the perfect recipe for an awesome book? 
Judy Ann Davis Sums Up Four White Roses in One Sentence
Can a wily old ghost help two fractured souls find love again?
I'm intrigued, but I'm suspecting there is much more to the story. Tell us more, please.
When widower Rich Redman returns to Pennsylvania with his young daughter to sell his deceased grandmother's house, he discovers Grandmother Gertie's final request was for him to find a missing relative and a stash of WWI jewels.
Torrie Larson, single mom, is trying to make her landscape center and flower arranging business succeed while attempting to save the lineage of a rare white rose brought from Austria in the 1900s.
Together, the rich Texas lawyer and poor landscape owner team up to rescue the last rose and fulfill a dead woman's wishes. But in their search to discover answers to the mysteries plaguing them, will Rich and Torrie also discover love in each other's arms? Or will a meddling ghost, a pompous banker, and an elusive stray cat get in their way?
Let's take a gander at the gorgeous cover for Four White Roses.
I love it! The house reminds me of some that I've seen around our beautiful state of Pennsylvania, and the roses on the book are stunning!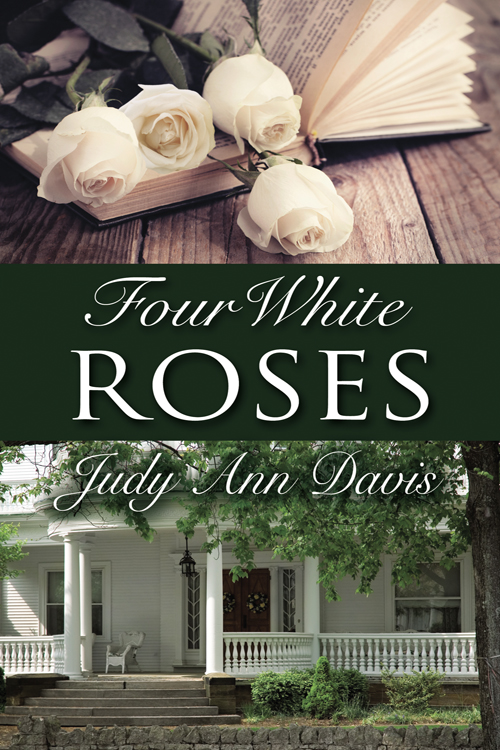 After a little bit of arm-twisting, (Okay, not much, she couldn't resist my pleading.)
I convinced Judy Ann to give us a little taste of the story. 
Torrie met his gaze. Her heart hammered in her chest. She was not a fickle female who didn't know when a man's eyes were full of desire. All of a sudden a shadow of alarm washed over her as her snug safe world tilted on its axis. What had she gotten herself into? What was she thinking when she agreed to accompany him and stay overnight? She wasn't a woman who did one-night stands. She was Torrie Larson. Responsible, steadfast, and predictable. The girl who never colored outside the lines all her life. Single mom. Mother of a young daughter who led an uneventful, innocent life for the last six years.
"What's the matter, Torrie?" Rich asked softly.
She swallowed hard, trying to manage a feeble answer that was honest, but not insulting. "I guess I can't decide whether I've made a good decision." She bit her lower lip. "I've never done this before."
He smiled at her with his utterly stunning lips. "And do you think what we're doing here is wrong?"
She shrugged, afraid to look him in the eye. She stared at the stone patio instead. Panic like she never felt before rose up. "I…I think…I think we need to call our girls," she stammered.
"Torrie, look at me," he said. When she met his gaze, he spoke with a voice filled with a knowing and gentle calmness as if he could read her mind. "Torrie, this night is for you to enjoy. Trust me, you needn't feel frightened or pressured to do anything you don't want to do. Yes, we need to call the girls." He rose and offered her his hand, helping her up. "I have to make a few calls myself. Why don't you use the shower and afterward, I'll take one."
He pulled her into his arms. His comforting embrace felt so right. She leaned into him, feeling his warmth through his shirt. She could hear the soft beating of his heart. When she pulled away, he kissed her lightly on the lips and looked into her eyes. "I want you to shower, and put on those sexy stilettos and the hot electric blue dress I saw in the garment bag."
When her eyes widened, he laughed and said in a low, husky voice. "It's not what you're thinking. We're going out on the town…dancing, my dear."
What Caught Your Eye First, the Cover, the Blurb or the Excerpt for Four White Roses? Or All of the Above? 
A wily #ghost. A landscape artist. Two little girls. Can one man keep everyone happy? FOUR WHITE ROSES
Click To Tweet
Get your copy today and discover the rest of the story. 
FOUR WHITE ROSES Buy Link   
Visit Judy:
Her blog:    The web:      Facebook     Twitter: JudyAnnDavis4  
 Pinterest        Author Page:           Goodreads
AUTHOR BIO: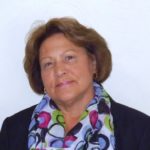 Judy Ann Davis began her career in writing as a copy and continuity writer for radio and television in Scranton, PA. She holds a degree in Journalism and Communications and has written for industry and education throughout her career.Over a dozen of her short stories have appeared in various literary and small magazines and anthologies, and have received numerous awards. She has written four novels to date, one novella, and an anthology of short stories.
When Judy Ann is not behind a computer, you can find her looking for anything humorous to make her laugh or swinging a golf club where the chuckles are few. She is a member of Pennwriters, Inc. and Romance Writers of America, and divides her time between Central Pennsylvania and New Smyrna Beach, Florida.