I've written about writing habits many times before, but this week's #MFRW 52-week Blog Challenge is entitled, Why I Write. The first thing I thought when I read this was, "Wait, you say this as if I have a choice?" Sure, it's not like someone is strapping me to the chair and forcing me to purge stories—even though sometimes I might need that extra nudge. But in a way, someone is.
What Do I Have in Common with Betty White
Have you seen the candy bar commercials with Betty White where she's in a situation where she's looking completely out of her comfort zone until someone hands her a chocolate bar? The commercials are cute and hilarious—unless you're Betty. That's me, when I've neglected my writing for too long.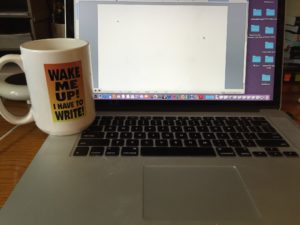 You might also notice in the commercial that someone else alerts Betty to her need for some chocolate. Problem is, I don't always immediately recognize my own need to write and neither do the people around me who wonder who this bad-tempered, irritable person is and ponder how to escape my cranky clutches.
So far, none of them have discovered that the best thing to do would be to shove me into a room with my laptop and say, "Maureen, you need to write." (Tossing in a few chocolate bars before retreating wouldn't hurt either. Just sayin'.)
Don't Make Me go All Jekyll and Hyde Like
My 'dayjob' involves a lot of seriousness and stress, hence why I need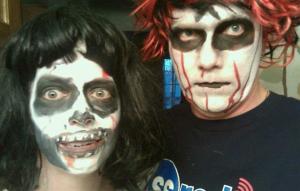 my escape into fantasy worlds where magic is real and laughter is abundant. If not, who knows what would happen to the limited grip I maintain on my sanity when the plethora of characters chattering in my head collide with the plethora of dayjob strains like water mixing with oil they each have their own outlet. If denied my creative outlet, I could get a lot worse than Betty in those commercials.
What? You haven't heard the term 'dayjob' before? Like most of us writer-ly types we throw out mysterious writing terms now and then thinking you're all onboard with what we're talking about. Or you don't ask because you chalk it up to one more weird writer thing.
Any-who, the dayjob is what many writers refer to as their other job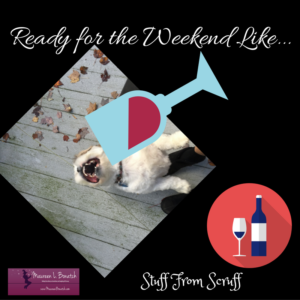 outside of writing. You know, the thing outside of what we were born to do. Although the term makes it sound like we come home and spend the midnight hours spinning stories while nursing a scotch. I hate to wash the glamour from this writing stereotype, except I can barely stay up past 9:30 and I hate scotch—so scratch that image from your mind. Instead insert earlier than the crack of dawn with a pot of coffee.
But Why Do I Write?
Simple answer, it's who I am. Probably before I even knew how to write because the stories are playing in my head close to 24/7 (and you wonder where the stereotypical image came of so many writers drinking). Before I realized I was a writer I subjected every poor teacher to a novella when they wanted an essay question answered and filling up journals with musings, stories and other nonsense.
So why do I #write? Because I can't not write. #MFRW
Click To Tweet
What About You? If It's Not Writing, Is There Something in Your Life that You Can't Just Not Do Because it Makes You—You?
Follow the #MFRW Blog Hop and find other some other—perhaps more serious—responses from authors about why they write.
If you haven't picked up Destiny Calling yet—Don't Miss The Limited Time .99 cents sale!