I can't believe I've successfully posted every week so far for the #MFRW 52-week blog hop. Or that we are over half way through the year. I also can't believe how challenging some of these topics can be. Luckily (or not-so-lucky for you), I always rise to the challenge and interpret the assigned topic like a writer. Thriving upon picking apart every word and trying to mold it into something I can relate to.
Kind of like when I had an essay question in school. I'd babble on long enough in the hope that I'd eventually hit the point the teacher desired. I treated this week's topic no differently.

Looking Through the Eye of an Introvert
This week's #MFRW topic is The Most #Beautiful Place I've Been. That sounds easy enough, right? Wrong.
Click To Tweet
If you read my post about places that I'd like to visit while battling with my hermit-like nature—and pretty much any of my posts—you may have already figured out how I like to digress.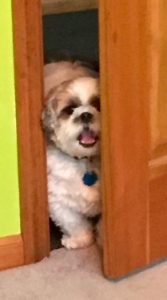 But I restrained myself this time, otherwise you were going to get a post about how the most beautiful place is my bed at the end of a long day, or the beauty of a glorious day with nothing on the agenda but writing…
Get Out Much?
Despite all my whining and hermit-like tendencies, I have been to a
few beautiful places outside of my home, my state, and even my country. I know, shocking! But really, it's true.
Even Hermits Appreciate the Beauty of the Islands
Despite being a pasty white Irish girl who burns like a speckled tomato after challenging the sun's unforgiving rays by slathering on a sunblock of over a bajillion, the biggest floppy hat you've ever seen and an avoidance of most shark-infested water past my knees, I do like the beauty of the islands and have visited quite a few.
Look- my husband's shadow in the sand- proof that I've actually left PA once in a while. 😉

Aruba, Punta Cana, the Bahamas & Cancun are all gorgeous when you live in a state that hordes sunshine like a magic diet pill.

Turks and Caicos was especially beautiful in how it boasted sand resembling gorgeous crystals, and an ocean as clear blue as the sky—that way I can see if

Look- more proof of an introvert traveling- my foot!

any sharks or other hungry fish are heading my way.
I Don't Have to Look Far For Beauty
If you've read many of my blog posts, or any of my books, you'll already know how much I love the trees and the woods of my home state.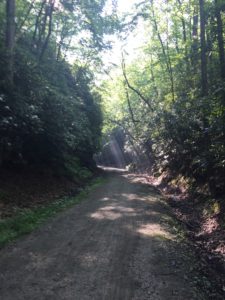 When bicycling or riding as a backseat biker on the motorcycle, there is nothing that fills my heart more than imagining the stories that live within the woods. Its beauty is absolutely magical to me.
The peace that I find in the quiet away from civilization takes my breath away and inspires me to imagine stories filled with fantasy and the paranormal.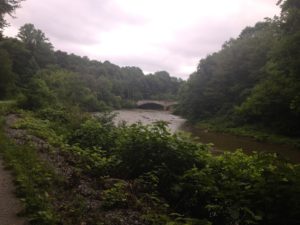 Looking for Actual Beautiful Places?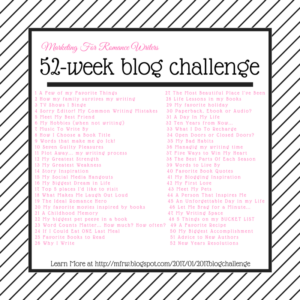 Looking for more beautiful places outside of my limited, introverted musings? Be sure to check out the other authors on the #MFRW Blog Hop as they share the most beautiful places they've been.