This week's topic for Marketing for Romance Writers (MFRW) is A Day in My Life. I wear many hats, and a 'day-job' day, differs from a 'freelance/ghostwriter day' to an 'author/writer day'. But I'm assuming you care more about the glamorous writer's life that most non-writers envision it to be. Spoiler alert—they're usually not all that glamorous.
Granted there are days like that. The fantastic magical ones that come as close to resembling that 'cabin in the woods' (the good kind, not the one where an ax murder shows up) as you're going to get. Then there's reality.
A Writer's Life-Dream a Little Dream
We all have them. Whether we write them down and meticulously check off the boxes, or mentally follow them in our mind. Our To Do list. We start each day with the grand intentions of wrapping up the day with a sense of accomplishment and a plethora of completed tasks. Snuggling into bed with a satisfied smile. That's my fantasy writers day. It would go a little bit like this…
Magically Kicking Ass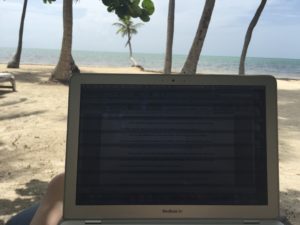 A fantasy—aka Fantastic Writer's Life—occurs every now and again. Those days when I'm up at my usual weekday time of 4:30 a.m. with my muse before the world is awake. The words flow onto the page like magic. I spend the morning writing new material.
Then I devote time in the afternoon to either:
editing another draft story

writing blog posts

scheduling promotion on twitter and Facebook

Working on an upcoming newsletter

and/or completing freelance writing assignments
I plan an easy dinner in the crockpot so I'm not interrupted from my writing too much. Perhaps I take my laptop down to my DIY treadmill desk to edit, or complete other tasks to keep my back from complaining.
I wrap up the day before the family starts returning home around 3- 3:30 p.m. by clearing out most of my emails. I feel a huge sense of accomplishment for my day. Then my family looks around at the empty cupboards and the unclean house and says, "What did you do all day? Nothing?"
Magic Doesn't Clean The Bathroom
Most of my writing days dance to the beat of a different drum. The day starts out the same way, with an early rise at 4:30 a.m. and a To Do list just waiting to be annihilated to succeed in my writers life, but then one of two things happen. Life or Procrastination.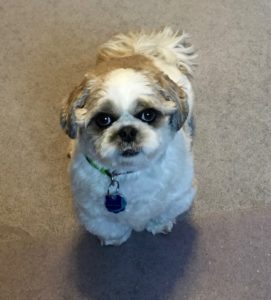 I'm interrupting my writing/editing because I have to go to an appointment, or get groceries, or take the dog to the groomer.
Then I get sucked into the black hole of social media and unknowingly lose hours of my day.
Or I realize the house isn't going to clean itself and end up working out story plotlines as I'm cleaning toilets, or doing laundry. These days often result in a happier, well-fed, clean-clothed family, but restless fictional characters.
One Common Element
Although my days are awkwardly balanced between family, writing, freelance, day-job and life they all have one thing in common. I'm constantly thinking about writing. It's not part of my day, it's part of me.
Whether it's a story I'm working on, a new one brewing, a blog post, or freelance articles, my muse never rests. It wakes me up at night, drags me from bed and fills my day with stories.
For more news and updates on my life as a writer and fun stuff, don't forget to sign up for my newsletter here. Don't worry about me spamming your inbox. I'm far too overwhelmed most days to send one out unless I have something to share.
Check Out A Day in The Life Of the Other Authors