All my life I've been a goal setter. I think it's time to change that. Too many times what I think of as goals and aspirations are actually dreams. I'm better off setting a deadline for myself if I want to do more than dream it, but achieve it. But there's one thing that I never put on my list of goals, until I realized it was the most important thing.
Welcome to this week's Marketing For Romance Writer's 52-Week Blog Challenge. The prompt for today is "Ten Years from Now…" I admit it; I'm obsessed by the concept of time. Every song that dwells on the passing of time fills me with melancholy.
I plan out almost every minute of the day so that I barely have time to breathe. Over scheduling and overwhelming myself with all the things I should, could and maybe would do if I only had the time. Each day ends with me falling short of achieving everything on the list. Perhaps this gives me the incentive to repeat the cycle each day. But sometimes it just make me tired.
Dreams of Happiness
I can tell you my dream life for ten years from now. It's the same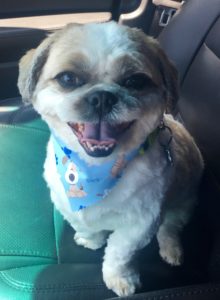 thing I've dreamed about for years. Being able to give all my attention to my fiction writing. Granted, I've gotten closer to that goal/dream/fantasy over the years, but there is still a way to go, plus it only gives a part of the big picture.
A few years ago I decided my goals should be replaced by deadlines when I realized there was one key element in all of my goals. Happiness.
If I only lost # of pounds I'd be happier
If this month was over I'd be happier
If I finished this WIP I'd be happier
If I exercised more I'd be happier
Fill in the blank—

happier
But in all of these goals and dreams I was wishing my life away. Why wasn't I enjoying what makes me happy now? The grass isn't always greener and the years aren't always kinder. Perhaps this year is the high point of the decade, but I won't notice because I'm too busy planning for the future.
I wasn't enjoying today. I was planning to enjoy the future and wasting these precious hours. I've come to realize that time speeds up, and I get slower, so it rushes by far too quickly. I see that in my girls. When I look back ten years ago I see how they've grown in the blink of an eye. The years bring changes in my family and friends.
The More Things Change, The More They Stay the Same
Yet when I look at my past goals I notice that many carried over the years without changing. There are other changes in my life that I never anticipated happening—both good and bad. One thing is for sure, I've tried to stop looking into that crystal ball. Unless it's for one of the characters in my stories.
I don't know exactly what I will be doing ten years from now. Or if it will fit with that author fantasy world that lives in my, and most authors, minds. Hopefully it will come close. But more than that I hope to be happy.
That in ten years I will have stopped dwelling on what could be different, or better, and enjoy each wonderful day.

That I will publish my books faster once I have conquered my fears and doubts in pleasing my harshest critic—me.

That I won't worry about the little things, because that's all they are.
Stop allowing perfection to paralyze me from finishing #amwriting #MFRW #goals
Click To Tweet
Our lives are all a work in progress, but I prefer to enjoy the journey and find the magic in each day, and seek happiness.
Follow the Blog Hop to Find Out What the Other Authors Will Be Doing Ten Years From Now