My Brain is Ninety-Nine Percent Song Lyrics
If you've heard this expression, or seen it on a shirt, you might've smiled. But really, this is me. Unless I'm writing, I have music on all the time, and even when I don't, there's a song playing in my head. It wakes me up sometimes.
My husband used to play in a heavy metal band as a guitarist and singer, and my girls love music as much as we do. (The whole nature versus nurture thing) I grew up dancing in my parent's living room spinning forty-fives and albums. I still love many of those old groups, many who claimed their fame before I was born. 
Hence, why the first thing that came to my mind wasn't autumn bearing down on us, but instead it was…The Four Seasons. (And don't forget Frankie Valli) So as I try to conform, I will share something I love about each season of nature. Along with a few of my favorite songs from The Four Seasons. 
Hockey~ Otherwise Known as Spring
As the winter is winding down, it tends to morph into hockey season. I'm not much for sports, but hockey is something I admire. I mean who wouldn't admire big, muscular men? Granted, they might be missing a tooth or two, but the amount of skill and fitness required to race across the ice is amazing. Especially since my skating skills are limited and I've yet to master the whole stopping thing. Therefore, for that reason, and the fact that I don't tolerate the cold well, I avoid skating. 
Oh, and by the way, these songs are best sung in the car, shower, or other private venue. Because short of a kick to the crotch, it's hard to maintain this pitch very well. But it sure is fun.
Biking~ a.k.a. Summer
Once the paths have begun to dry from those spring showers, it's time to get out the motorcycle or bicycle. Most of my stories are set in rural, wooded areas due to my love of the mysteries of the woods. There's something about trees. They remain so stoic and silent. Holding onto who knows how many secrets. They way their leaves whistle and sing with the wind. Okay, again, I've digressed into the woods from Destiny Calling. Don't go—I'm back!
Rag Doll is often how I could be described when hiding out at home and writing. That, or homeless person. But since I'm actually in our home at the time and not under a bridge or sitting in a box, I supposed Rag Doll is more fitting. 
Sweat Pants~ Or What The Rest of The World Thinks of as Pumpkin Spice Season
Hey, I do love me some pumpkin spice, but seriously peeps, it's getting a little crazy out there. Seems you can put pumpkin in just about anything.
But my favorite thing about #Fall—well, besides sweat pants obviously is…wait, it is sweat pants.
Click To Tweet
Okay, and perhaps the leaves and cool evenings spent listening to the crickets. And Halloween! But if you're at my site I think you already figured that out. 
Can't Take My Eyes Off You is often how I could accurately describe my impatience while waiting for the Keurig to brew my bajillion-ith cup of coffee. But that warm brew sure is nice on a cool morning. Perhaps I might even add a shot of pumpkin spice.
Hibernation~ Winter~ Who Loves You?
I live in Pennsylvania. So if someone's not talking about sports then it's usually about the weather. Those conversations often rotate around winter even if winter is no where in sight. By saying things on the hottest day of summer such as, "You better not complain, because the snow is going to fly soon."  No matter what the weather, the threat of snow arriving within hours, days, or months is supposed to make you smile and enjoy even the most miserable rainy day.
Lucky for me, I've begun to love winter just a little bit. That is, if I can stay at home and write, or curl up with a good movie. There's something pristine and beautiful about the silence and stillness. I just don't want to have to drive, or put on layers upon layers of clothes (like I said, no tolerance for the cold!) when it's piling up on the streets.
Music Goes Along With Every Season
Well, there you have it. Now excuse me while I go put on some tunes, grab some pumpkin spice coffee and maybe do a little dancing. As my sole audience (which is how I like it), I often try to get Scruff to join me in the song and dance but he has yet to acquire the love of music like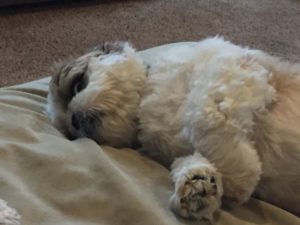 the rest of the family. Instead he judges my poor singing skills and gives me the stink eye when I try to force him to dance along with me.
What's Your Favorite Part of Each Season? Or Do You Just Love The Four Seasons?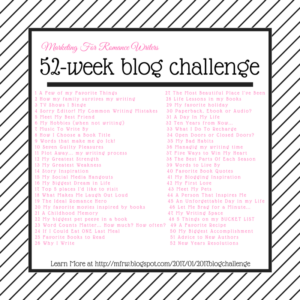 Check out the other authors in the Marketing For Romance Writer's blog hop to discover their favorite parts of each season.