If you've read any of my blog posts, you might've noticed that I tend to digress from the suggested topic of the Marketing for Romance Writer's (#MFRW) 52-week Blog Challenge. Honestly, it's not my intent to go off on these wild tangents of babble. But I'm a writer, so hence that's what I do. Having a limited attention span and being easily distracted doesn't help. So asking me to identify my blogging inspiration, well, I get my inspiration from kind of­—everywhere. You really don't want to go for a ride on that crazy train. Because we might get on that train of thought and end the trip in a canoe—just sayin'.
Therefore, I think I'll talk a little about how I started blogging all those years ago.
What's A Blog?
When my first story was published with The Wild Rose Press back in 2009, it was suggested that all authors should start a blog. What, the what? I didn't even know what a blog was, let alone what to write. Exposing personal stories online made me uncomfortable and I thought anything I had to say would be extremely boring reading material. After much thought and deliberation, I had an inspiration about what to write about on my blog.
At that time, my twins were around seven or eight years old. With two crack-of-dawn-endless-energy-get-into-absolutely-everything kids since the moment they entered the world, I hadn't had time for much of anything else in the years prior. The guilt over the mostly empty baby books, and the memories slipping away gave me an idea. Perhaps the stories about the girl's antics that I usually shared in an email with my family might make for good blog material.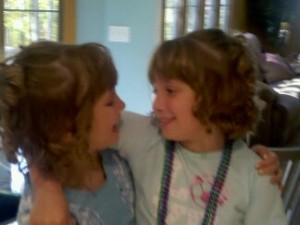 So for a while, I wrote humorous stories like this about my twins—and saved them to replace the empty pages in the baby books. I had a lot of fun writing these stories. Although these posts had very little to do with marketing my book or building an audience for my fiction, which is what I believe my publisher had in mind.
Flash Fiction—Hey Scruff! Put That Away!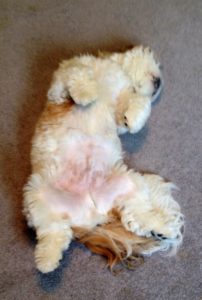 Another avenue I followed to hone my writing, which inadvertently improved my blog posts, was flash fiction. It's not what Scruff thinks. It's about writing a very short, short story with character and plot development in a flash.
The challenge was, and still is, to tighten the story. You'd be amazed at how much time it can take to write a very short piece and get a story in. To a long-winded writer like me, writing a flash fiction piece is more difficult than writing a novel. Because you need to share a complete story in a very limited amount of words. Here's one I wrote a few years ago.
Flash Fiction helped me discover a #writing prompt was all I needed to start writing anything. #MFRW
Click To Tweet
Practice Makes Perfect
Thus, it doesn't take much more than a prompt to inspire me to start babbling. Therefore, starting this 52-week blog challenge was perfect. Most of the prompts haven't required much thought from me more than putting my fingers to the keyboard.
Unfortunately for you, dear reader, sometimes the aforementioned fingers tend to go astray from the topic at hand when they—hey, look, a squirrel!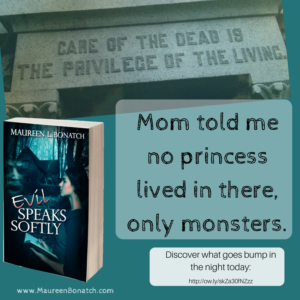 This week I published my fifth story, Evil Speaks Softly, with The Wild Rose Press! Check out this post where I'm sharing a ton of places to enter for prizes besides my rafflecopter below!
Everyone has a story to tell. Even the dead.
Get Inspired By The Other Author's in the MFRW Blog Hop