Welcome to this week's Marketing for Romance Writer's (#MFRW) 52-Week Blog Challenge! We are 47-week's in—can you believe that?! And in today's post you get to gain a glimpse into the secret abode of the writer. Okay, maybe it's not all that secret. But it's the mysterious lair where the magic happens—which sounds much nicer than where the backaches originate from. That's because today's topic is entitled, My Writing Space. Are you brave enough to take a peek?
It All Started With a Binder

This week's post let me take a little journey of my writing space through the years and how far I've come. Initially when I started writing, my twins were young. Which for anyone who has young children understands that during those years, nothing is your own. If you try to claim it, then it usually ends up covered with stickers or crayon markings as the little ones mark their territory.
So besides not having an area anywhere in the entire house that wasn't filled with the overflow of toys, no place was safe to leave my writing things unattended. Plus I didn't feel that I had the right to demand a space dedicated to writing when in my mind I wasn't a "real writer."
Therefore, I had a binder. Although even if I had a coveted day without the kids around, my first writing partner, Bummy, would often claim his territory—on top of my binder.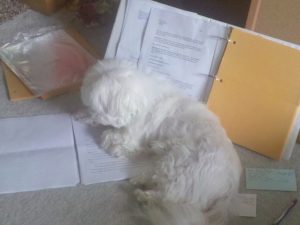 It Progressed to a Bulletin Board
My writing stuff accumulated. Soon it was difficult to visualize a scene with only a binder. But I still didn't actually have my own writing space. Plus, there was the pesky problem of my writing parter, Bummy, who felt the paper was laid out for his use.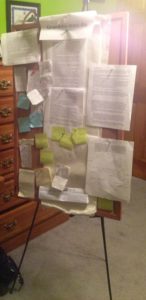 So I got a tripod, and a few bulletin boards that I could put a storyline on and other notes. This kept my writing space mobile, and it was easier to pull out and store.
Then I Got a Wall
The guest room upstairs was rarely used except when the girls had friends over for a sleepover. Otherwise it was just another space where the toys overflowed. The girls were now old enough to leave my coveted bulletin board collection alone, so I claimed the back wall of the guest room/playroom/toy explosion.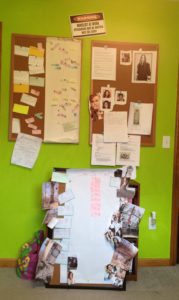 Because the ongoing worry of stepping on push pins dislodged as I toted my boards around was getting to be an aggravation.
Things Finally Got Real & I Got My Writing Space
Not long after I staked claim to the guest room and declared it an office, I gained my current writing assistant, Scruff. Within the last few years, Scruff stopped trying to eat the push pins that fell off my boards. Plus I finally got to paint the room a color that wasn't so intense as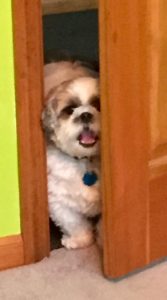 the vibrant green the girls loved in their youth because of their love of frogs.
A Tour of My Writing Space
Virginia Woolf had it right in saying that a woman needs a room of her own, because I couldn't love my little writing haven much more.
Even though Scruff claims the room as partially his and I share the space with office items for the house and a few other odds and ends.
It's taken me almost ten years to claim my own #writing space. #MFRW
Click To Tweet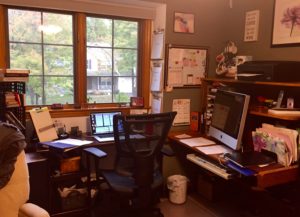 I've rearranged it a few times, but here's a glimpse of where I'm sitting today.
In the day I get a nice view of the street and in the early morning hours, and the neighbors see that scary woman reflected in the window. (Probably how spooky stories originate.)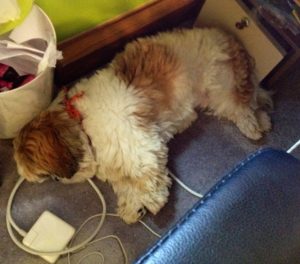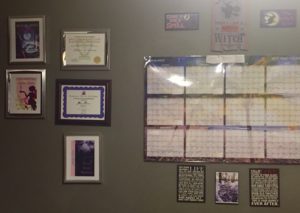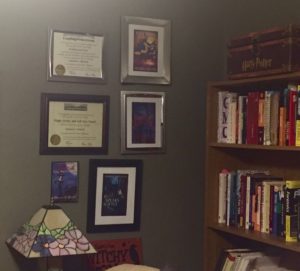 Do You Have a Room of Your Own in Your House?
Don't Forget To Check Out the Writing Space of the Other Authors
Thank you for visiting my writing space. The place where I start my day almost every morning and create my stories.
This is a blog hop—so don't forget to scroll to the bottom and check out the other authors.