Please welcome my guest author, Pamela S. Thibodeaux. She's here just in time for the holidays to share more about her book, Keri's Christmas Wish, as well as a little about herself with an interview. Keri's Wish is featured in a collection of 5 Christmas stories entitled, Mistletoe, Snow and Suspense. On sale now to help fill you with a little Christmas spirit.
Keri's Christmas Wish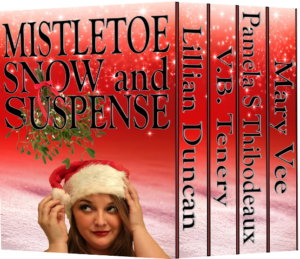 Inspirational Christian fiction with paranormal elements
Christian Theme: The power of faith to heal
Can Keri get past her angst over Christ's birth and enjoy the Christmas season?
Blurb for Keri's Christmas Wish
For as long as she can remember, Keri Jackson has despised the hype and commercialism around Christmas so much she seldom enjoys the holiday. Will she get her wish and be free of the angst to truly enjoy Christmas this year?
A devout Christian at heart, Jeremy Hinton, a Psychotherapist, Life Coach, Spiritual Mentor and Energy Medicine Practitioner has studied all of the world's religions and homeopathic healing modalities. But when a rare bacterial infection threatens the life of the woman he loves, will all of his faith and training be for naught?
Find out in Keri's Christmas Wish
Can Keri get past her angst over Christ's birth and enjoy the Christmas season? #KerisChristmasWish http://amzn.to/2ePnias #IDAWinner
Click To Tweet
Excerpt for Keri's Christmas Wish
She awoke in another dimension. Keri had no idea if she was in Heaven, but neither did she fear Hell. Her surroundings were reminiscent of a dense forest at dusk. Shadows danced against a sunset where brilliant colors bled from the sky. A light shone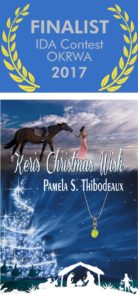 in the distance but as she moved toward it, Keri felt as though she plowed through molasses. Unease pricked her skin. The sound of water drew her deeper into the woods until she stood at the base of a vast waterfall and rapids so swift she dared not attempt to cross the river.
The light grew stronger, brighter. Beckoning.
I need to get to the light.
Ebook Link: http://amzn.to/2ePnias
Print Link: http://amzn.to/2g4o4yG
While her body is under attack, Keri's soul is alive and well in another realm. #KerisChristmasWish http://amzn.to/2ePnias 2017 #IDA #winner
Click To Tweet
Interview With Pamela
Most of my characters have a special ability or power. (Even Ruthie has the power of "knowing") What kind of magic would you like to be able to do? Personally I believe we all have intuitive abilities. Some don't believe and others are afraid. I'd love to hone mine so well that I never miss an opportunity to be a blessing to someone else or a blessing God has for me.
Many people have a 'signature expression' (Ie: my character, Hope from Destiny Calling, often says "For Goodness Sake"). What expression are you known for—or would you like to be known for? My author brand is "Inspirational with an Edge!" ™ but I'd also like to be know for "Good luck and God's Blessings" which I use when commenting on blog posts AND Until next time, take care and God Bless – which I use in very nearly every blog post & newsletter I write. Some folks may feel using these salutations every time lessens their authenticity, but each time I use one, I mean it with every fiber of my being!
Nothing is more rewarding than a genuine laugh and a good sense of humor. What can always make you laugh? Watching children. You never know what they'll say or do and most times it's hilarious.
My character, Olivia (Liv) from Evil Speaks Softly has always wanted to be a writer. What about you? Did you always want to be a writer? What other profession(s) have you had? I've always been an avid reader. The urge to write came in my twenties. I've worked in various positions from Cashier/Food Prep in fast food restaurants to Full Charge Bookkeeper & Tax Preparer and Licensed Insurance Agent.
Writing and marketing a book is hard work. Share your best "author tip". The bible exhorts us to "study and show yourself approved." Keep studying, keep writing, keep learning, stay open to constructive critique and NEVER GIVE UP! Writing is both gift and talent given to you by God. Don't hide your gift or bury your talent. Whatever you write, write well. Strive for excellence. Stay teachable, pliable, and flexible. Never believe that you know it all because knowledge is power and the more you know the more valuable you become. Above all share what you learn with others and make someone's load lighter to bear. My best marketing advice is: Don't watch your numbers too closely, it'll drive you crazy and remember it takes time, patience and consistency!
#IDAWinner KERI'S CHRISTMAS WISH by @psthib http://amzn.to/2ePnias #inspirationalwithanedge
Click To Tweet
Please Note: Keri's Christmas Wish is featured in Mistletoe, Snow and Suspense
a collection of 5 Christmas stories by 4 Acclaimed authors available for a limited time for only 99cents! Link for collection: http://amzn.to/2A50wEe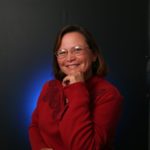 Author Bio: Award-winning author, Pamela S. Thibodeaux is the Co-Founder and a lifetime member of Bayou Writers Group in Lake Charles, Louisiana. Multi-published in romantic fiction as well as creative non-fiction, her writing has been tagged as, "Inspirational with an Edge!" ™ and reviewed as "steamier and grittier than the typical Christian novel without decreasing the message."
Website address: http://www.pamelathibodeaux.com
Blog: http://pamswildroseblog.blogspot.com
Face Book: http://facebook.com/pamelasthibodeaux
Twitter: http://twitter.com/psthib @psthib
Pinterest: http://www.pinterest.com/pamelasthibodea/
Amazon Author Page: http://amzn.to/1jUVcdU
BookBub: https://www.bookbub.com/authors/pamela-s-thibodeaux