Welcome to the Highway Cafe's 2017 Christmas Blog Tour! The blog hop promises fun, festivities & prizes from Dec 4th through the 8th. The holiday blog tour will get you in the mood for the season by featuring holiday themes, recipes crafts and you can enter to win a prize at every stop.
You met them last year, and they're back to put some jolly in your holly. Some jingle while you mingle. They know how to help make this your best holiday yet. They're the experts in the field of all things holiday and have prepared for this month all year.
Who are they? The Christmas Elves.
Yep, for these five days the blog is being hosted by SugarPlum Silverfluff. You may have met her last year as she talked about the sinister dolls she creates while indulging in holiday libations. (Check it out here and get some Christmas cocktail recipes). Let's find out what SugarPlum is up to.
Dancing Elf Queen
The holiday festivities are in full swing as Christmas approaches and Sugarplum isn't going to miss an opportunity to put on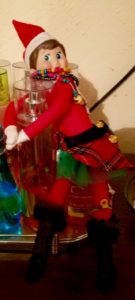 her dancing shoes. A year of making toys has her ready to stretch her toes and hide out with a few of the other elves in the big red barn.
She's listening to a few of her favorite christmas holiday tunes. She's singing along to her favorite song, All I Want for Christmas Is You, although she's singing it to a martini glass. Most likely if it's not full of one of the cocktail recipes she gave us last year, then it might have one of these christmas concoctions (pineapple upside-down cake martini or christmas punch).
Christmas

Sugarplum

 Don't Care Package
When I asked Sugarplum to give us a few recipes, or gift and decorating ideas for Christmas, she slurred a response that sounded a lot like, "Been there done that" and then resumed dancing. I gave up trying to reason with her once she started swinging on a big candy cane.
Luckily for us, I was able to surmise that she was referring to all the christmas posts from the past. Those links can give us the whole christmas package to get us in the mood for the holidays and provide us with extra time to watch a few of our favorite holiday movies.
Posts of Christmas Past
I posted links above for libations to enjoy or serve to enhance the holiday festivities and a listed a post with a few christmas tunes. Let's get the rest of the holiday package.
Desserts
Appetizers
Gift Ideas
Decorating
Need a Break from the Christmas Festivities?
Follow Sugarplum's lead and grab a book, like Grandma Must Die, and find a nice hiding place to relax and recharge before you jump back in the christmas fun.                                                                 
Carman has worn out more towns and last names than impractical shoes protecting the secret of her magic blood. But when a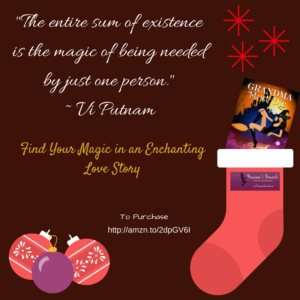 friend goes missing, and another is infected with a deadly spell, Carman must choose. Expose her magic blood by curing the spell—or stop the infection from spreading by killing the source…the grandmother.
Magic bounty hunter Dylan has scoured libraries of banned magic paraphernalia seeking a method to distinguish genuine witches from impersonators. He suspects unorthodox librarian Carman might hold this information tighter than the hair he's dying to unleash from her bun. With a past as hidden as his sleeve of tattoos, Dylan discovers he's been used to gain Carman's trust and their passion risks more than mixing mortals and magic.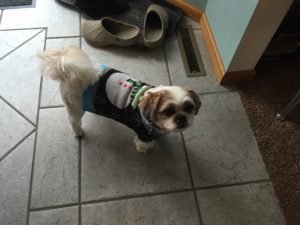 Want Your Own Elf Name?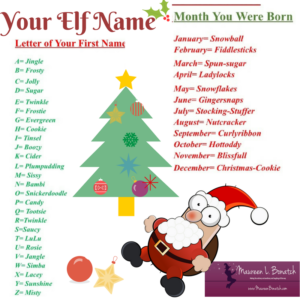 You might feel like an Elf yourself now that you've gotten all the goods for the christmas season and now I want to play santa.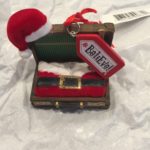 I'll randomly choose someone who comments about the best gift you've ever gotten  (come on elves, I need gift ideas!) and announce the winner of a five dollar Amazon gift card on Dec 11th.
Follow the Highway Cafe 2017 Christmas Blog Tour  and meet some more elves, hear about their favorite holiday song as you gather gift ideas and recipes. Don't forget to enter to win a prize for you!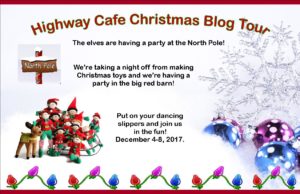 December 4
Holland Rae – https://hollandrae.com/
Susanne Matthews – https://mhsusannematthews.wordpress.com/
Sorchia DuBois – www.sorchiadubois.com
Mariah Lynne –
December 5
Tena Stetler – http://www.tenastetler.com/category/my-say-what-blog/
Maureen Bonatch – http://www.maureenbonatch.com/blog/
Peggy Jaeger – https://peggyjaeger.com/
Barbara Burke – https://barbaraburkeauthor.wordpress.com/
December 6
Kelly Kalmanson – http://kkweil.blogspot.com
M.S. Spencer – http://msspencertalespinner.blogspot.com
Hywela Lyn – www.hywelalyn.blogspot.com
Reggi Allder – https://reggiallder.blogspot.com/
December 7
Denyse Bridger – http://www.fantasypages.ca
Clair de Lune – https://clairdelunebooks.co.uk/
Karen Blake-Hall – https://kaydenclaremont.wordpress.com/
Casi McLean – http://casimclean.com/a-christmas-to-remember/
December 8
Darlene Fredette – http://findingthewritewords.blogspot.com
Daryl Devore – http://daryldevore.blogspot.ca
Gini Rifkin – http://ginirifkin.blogspot.com
Linda Carroll-Bradd – http://blog.lindacarroll-bradd.com