So it begins…a new year, a new month, and a new 52-week Blog Challenge from Marketing for Romance Writers (#MFRW). You didn't think you could get rid of me that easily, did you? This week's topic is Favorite Thing I've Written (and why). My first thought was how in the world could I pick a favorite story? That's like asking to choose one child over another. (Well, not quite, but kind of.) But with most things, the first is often the most magical.
If You Loved The Show Charmed
Like many fantasy and paranormal shows, I was drawn to the show Charmed immediately. I have three sisters myself, although that's about where the similarities end. I do wish and dream that I can do magic, and I write about good witches. But so far I've had no luck gaining any of the charmed ones abilities.
I was taking one of my first extensive writing courses at the time and I needed to write an essay. Hence, That Magic Moment, was born.
A Short and Sweet Story
That Magic Moment isn't a long story; in fact you can probably read the whole thing over a lunch break. But despite being an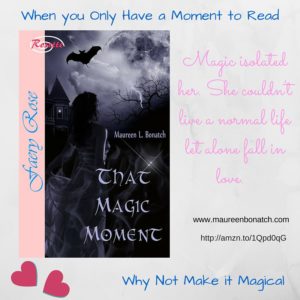 author that tends to be long-winded and feel more vested in my novels, that doesn't make this little story any less special to me.
Getting the…Email
I'd been writing essays, flash fiction and short stories for years. I never really thought I would send them to anyone to read or to consider for publishing. But when my assignment for the writing class was to submit a story, off went That Magic Moment to The Wild Rose Press.
I still remember checking my email that morning and seeing a response that they wanted to offer me a contract to publish it. I can recall exactly what I was doing (yoga stretches—yes while checking email, I used to be even better at multi-tasking. Mom of twins, remember? Lol). And I can still almost feel how my heart skipped a beat while reading those magical words. I didn't tell anyone for several hours, just so I could savor the news all to myself.
The Start of My Journey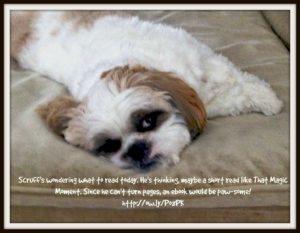 That story allowed me to believe that it was possible, that I could be published and that someone besides me and my family might like to read what I wrote. The journey from essay—to short story—to many edits—to getting a cover—to being published—was the best ride I ever went on.
Even though every new story gives me such a thrill, each time I look at that story I'm transported back to being a new author and experiencing the joy of sharing my characters with the world for the first time. That naïve author who didn't even know what a blog was when TWRP encouraged all authors to have one. I had to look up what a blog was, lol.
Check Out What the Other Authors Have to Say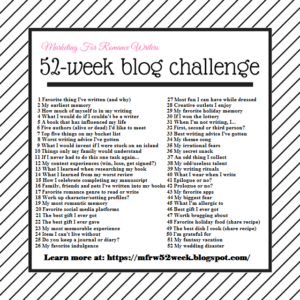 This is a blog hop! Check out the other authors as they talk about their favorite story, or the favorite thing they've written.