I go completely fan-girl. Welcome to this week's Marketing for Romance Writer's 52-week Blog Hop Challenge with the topic of, Five Authors (alive or dead) I'd Like to Meet. We're meeting in a bar, because I would be nervous as heck if some of my favorite literary superstars walked in and I got to meet them.
When I say meet I mean sit down and pepper them with questions and pick the deep, dark recesses of their minds. I'd never be satisfied with just a, "hello" or a shake of their hand. Everyone knows an author is like an onion, with layers upon layers underneath. Although, unlike onions, I don't think meeting my favorite authors would make me cry, except for maybe one of them…
The Man, The Myth, The Legend
If you know me at all, you already know who my #1 pick would be. That I would be satisfied if I could just meet one favorite author, that it would be him. Stephen. Stephen King, that is. The author who had me devouring book after book before I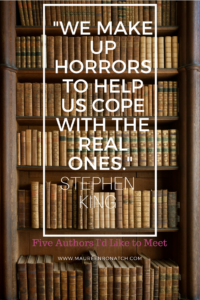 realized I even liked stories that might be considered horror.
I could gush on, but I've already written a post about having Stephen for dinner on a fellow author's page. (Over for dinner that is, not for dinner like some of his stories might lead you to believe.) You can read all about just how that evening would go right here.
She Makes Witches Badass
It wasn't enough for me to buy the kindle version of Kim Harrison's series The Hollows. I had to buy the print book as well, and when I could, I ordered them directly from her special store that enabled me to get her autograph. Then I had to buy the Hollows Insider to get a deeper look behind the characters because, you know, awesome witches, need I say more?
Sure there are all kind of other fun supernatural stuff in her books, but I sure do love a badass witch.
Vampires, You Say?
How about a Two-fer with vampires? (Not that!) Anne Rice introduced me to vampire books, but after that, I didn't read a whole lot more on that supernatural species, until I found Stephenie Meyer's book, Twilight. I know, there are lovers and haters of the series, but I was fascinated. Mostly by how I couldn't get enough of the story even though I could barely stand the heroine, Bella. She annoyed the heck out of me, as did Edward most of the time, but I just couldn't stop reading.
If I keep reading, that says something about an #author, because if I don't like the #characters, I'm out of there. #MFRW
Click To Tweet
I read the first book on vacation (back before I had a kindle), and I spent the long ride home from the beach scheming on how I could get the hubs to stop somewhere, anywhere, that had a bookstore so I could get book #2.
The More Favorite Authors the Merrier
Asking to meet five authors is a little bit challenging for a lifetime bookworm and author like me. That's one reason I chose a bar for the meeting place, because there's certainly room for more! As an author, I have met a ton of wonderful, thoughtful, fellow authors over the years, but only online. I'd love to invite all my online besties to meet up in person. Perhaps then I'd be comfortable inviting some of my favorite dead authors to show up in their spiritual form, then it wouldn't be so terrifying on my own. I do love horror, but only when it's between the pages of a good book.
Speaking of Ghosts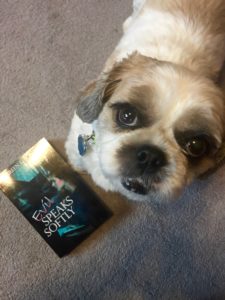 My book, Evil Speaks Softly is up for a Reviewer's Choice Award at The Paranormal Romance Guild.
Go Right Here if you'd like to vote.
Follow the Blog Hop
Curious as to which authors the other authors would like to meet? Follow the hop and find out!